Report: J.R. Smith 'leaning toward' opting out for free agency
A report from the New York Post indicates J.R. Smith is leaning toward opting out this summer.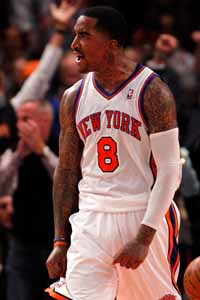 J.R. Smith could be a free agent this summer.
(Getty Images)
J.R. Smith
has fit in brilliantly with the
Knicks
. They were in desperate need of a perimeter weapon when Smith arrived, and his gun-without-a-conscience style has fit perfectly on a team that needed someone to create shots on the rare occasions that
Carmelo Anthony
wasn't doing just that for himself. It seems like a home for Smith. The biggest stage, and a marketable team that has both starpower and the ability to contend. Everything looks right. 
Which is, of course, to say that there's a pretty good chance Smith will toss all that away because he can make more money elsewhere, especially since he's played well. Smith signed for two years with the Knicks but has an opt-out to enter free agency this summer. From the New York Post:
Smith is leaning toward opting out as he makes $2.5 million next season but hasn't said certainly. Novak could be worth more than the $2 million lower exception the Knicks have to offer if the $5 million mid-level goes to point-guard-of-the-future Jeremy Lin.
via Amar'e Stoudemire of New York Knicks likely to be booed when he takes Garden court for Game 3 of Eastern Conference playoff series against Miami Heat - NYPOST.com.

Bringing back Smith needs to be high on the Knicks' list, and you might argue it's more imprortant than Lin. 

How can that be? Setting aside the financial benefits of Lin, the offense as currently constructed doesn't really need a high-usage point guard. It's basically "give the ball to Melo and get out of the way." Using precious salary on a point guard who needs the ball to run actual play sets gets in the way of that. And let's face it, with the firing of Mike D'Antoni, the Knicks have made it pretty clear that it's Melo's way or the highway.

Getting Smith back means bench scoring and another shot creator on offense. Is this the best way to build a team? Absolutely not. It's the opposite of that. But this is how New York has invested. Might as well go whole-hog on it. Then again, that won't happen, since Smith is likely to make even more than the MLE on the open market, and Lin provides way more benefits as a cultural phenomenon and ticket-seller even on a team where his talents are wasted behind Meloball.  
Mirotic was hospitalized with facial fractures after an altercation with Portis during pra...

Irving had some choice words for a fan who heckled him in Philadelphia

Several teams were reportedly interested in Nelson after he was waived by the Nuggets
Cousins got into a heated exchange with a fan during the Pelicans' season opener

Mike McClure, a DFS pro with more than $1M in winnings, gives optimal DraftKings and FanDuel...

Bryant said that execution is the key to taking on 'the big guys'