Report: Jrue Holiday wants a max extension; that's nice
Jrue Holiday reportedly wants a max extension to go with his rockets hip and fairy wings.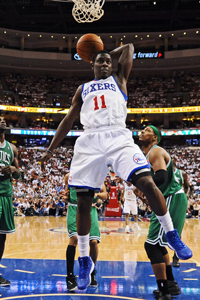 Jrue Holiday wants a max extension. I want a jetpack.
(Getty Images)
Yahoo Sports reports that Philadelphia 76ers point guard Jrue Holiday is "seeking a max contract extension" from the Sixers. 
As my father-in-law would say, people in hell want ice water. 
Holiday shot 43 percent last year for an offensively dreadful Sixers team, and was 25th among guards playing 30 minutes or more in Assist Rate. He's a fine defender but only averaged 14.4 points and 5 assists per 36 minutes. Holiday was supposed to be the player who took the next step and became a star for the Sixers, but instead took a step back last season. 
It's not that he's not a quality starting point guard in the league. He is. But he's nowhere close to a max player. The Sixers have been careful with extensions and managing their roster. It's hard to see them committing max money to a player who hasn't really even separated himself into the top tier of the club. Evan Turner spent time at point guard last season and flourished, and while he's not likely to be the full-time starter at that position, the fact that he will probably run it at times does take away from Holiday's value. 
If Holiday wants a max contract, he's going to have to make a massive jump next year. It's hard to see it coming any time soon. If the Sixers do ... well, we'll have to talk about that, now won't we?
Jordan Bell had himself a night against Portland

The younger Ball brothers are heading to BC Prienai, but that could spell trouble

Not many games, but still plenty of action and intrigue Monday in the Association
SportsLine's advanced computer model simulated Tuesday night's Lakers-Knicks game 10,000 t...

The Reno Aces are concerned about the new WNBA franchise stealing their thunder

Hinkie parted ways with the 76ers in 2016 after drastically changing the direction of the...