Report: Jusuf Nurkic bought out from Europe team, joining Nuggets
The Denver Nuggets and draft pick Jusuf Nurkic have reportedly bought him out of his contract in Europe and he'll join Denver next season.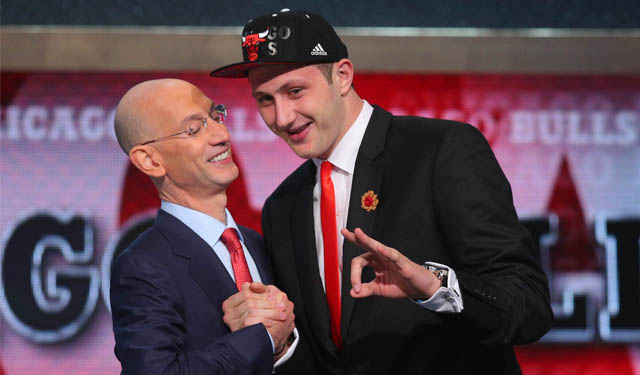 More Offseason Analysis: Coaching changes, news | Free Agency | Draft
When the Denver Nuggets completed a draft night trade sending 11th pick Doug McDermott and Anthony Randolph to the Chicago Bulls for the draft rights to Jusuf Nurkic and Gary Harris, it was assumed Nurkic would likely stay in Europe for a season or two before coming over to the NBA. That doesn't look to be the case anymore.
David Pick of EuroBasket.com is reporting Nurkic and the Nuggets have worked with his Croatian basketball team to allow the Bosnian center to come over to the Nuggets right away. The Nuggets reportedly contributed $650,000 while Nurkic paid $135,000 to complete the buyout. 
Jusuf Nurkic has opted-out of contract with Croatian club to join Denver. Buyout spread over two-seasons, I'm told.

— David Pick (@IAmDPick) July 10, 2014
Nuggets filed $650k to Croatian club Cedevita to buyout draftee Jusuf Nurkic. He added $135k. Original linkage: https://t.co/Kh7M93a0hJ

— David Pick (@IAmDPick) July 10, 2014
Nurkic is a big, bruising center from Bosnia who spent last season playing for Zadar in the Croatian league, and was the 16th pick by the Chicago Bulls. He was selected for the Nuggets to make the trade for McDermott. As ProBasketballTalk points out, the Nuggets can only contribute $600,000 to a buyout without it counting against the salary cap for Denver, so it's possible the final numbers on this deal from Denver's side could change in future reporting.
Oklahoma City has reportedly offered the MVP a five-year extension worth over $200 million

The big man was a big part of the Warriors' championship run last season

The Cavs jokes were out in full force after Golden State reportedly agreed to sign Antonius...
New York seems to be at the top of Irving's list of preferred destinations

Is it just a normal workout, or is LeBron continuing his recruiting efforts?

Chris Bosh answered on the spot about the LeBron James and Kyrie Irving situation