Report: Kendall Marshall on the trade block for the Suns
The Suns very badly want to trade point guard Kendall Marshall, according to a report.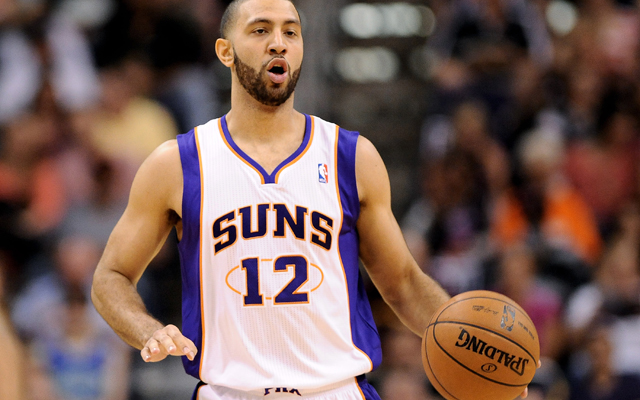 NBA.com reports that as the Phoenix Suns continue retooling under new GM Ryan McDonough, their former No. 13 overall pick is on the trade block: 
The Suns have put Kendall Marshall on the trade block in hopes of getting some return on the 2012 lottery pick, several league executives told NBA.com, with Marshall at No. 3 on the point guard depth chart after moving to upgrade the position.

"He's out there," said a member of one personnel department, meaning Marshall is available.

"They're trying to attach him to pretty much any deal that comes up," another executive said here at Summer League. "If you want to talk about any of their players, they include him. He's basically the price of admission to any trade right now."
via Sources: Suns' Marshall On The Block « Hang Time Blog | NBA.com.
Marshall entered the draft with huge concerns about his athleticism and ability to convert his game to the pro level and did little in his first season in Phoenix to quell those concerns. He averaged 3 points and 3 assists per game last season and just 7 points and 7 assists per-36 minutes. He had a PER of 7.8 and shot 37 percent from the field. Even with a 29.4-percent assist percentage (of all available assists), he never really showed he was ready to play in this league. 
His pure point instincts are something that can develop in time, but Phoenix doesn't seem like a great fit. Throw in the fact that they can't really move Goran Dragic and they just traded for Eric Bledsoe, and you have a logjam. He might get moved more on the basis of a team dumping salary to rebuilding Phoenix more than anything. 
Beverley handcuffed Lonzo on the court, and the emotion carried into the locker room

Ball's eagerly awaited first NBA game didn't go the way Laker fans hoped

Griffin can still hand out posters with the best of them
The Knicks forward is a bucket-getter in the truest sense of the term

On the TNT broadcast, even Shaq finally admitted that he likes Joel Embiid's game

The Warriors new Nike classic uniforms will be revealed Thursday