Report: Kevin Garnett won't waive no-trade clause for deal to Denver
Kevin Garnett reportedly will not waive his no-trade clause in any possible deal to Denver.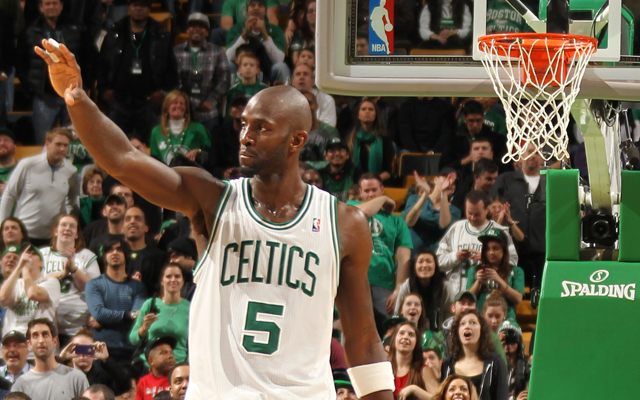 'Oh, hey, Denver, good to see you! No, I won't come over there. Thanks, though.'
(Getty Images)
The Denver Post reports that the Nuggets have contacted the Celtics inquiring about the availability of F/C Kevin Garnett, but Garnett's got no interest in heading to the Mile-High City, and his no-trade clause prevents any deal from occurring. 
Through his representatives, Garnett has let it be known he has no current interest in the Nuggets.
(via Kiszla: Nuggets interest in Celtics Kevin Garnett not reciprocal -- The Denver Post)
Here's what's weird: There are two things the Nuggets have made clear they don't want in any trade: age and money. They need financial flexibility unless it's a super-duper star (which Garnett no longer is), and they need to stay young as the roster develops (and Garnett is reaching "ancient"). Furthermore, Garnett doesn't fit at all with George Karl's up-and-down style. 
As much as Garnett helps any team, does he make them a title contender? No, and that's why Garnett has no interest in heading to Denver. The Nuggets would have to make a move similar to what Boston did in adding Ray Allen to Paul Pierce, which convinced Garnett to sign on for a trade to Boston in 2007.
Garnett, according to reports, is only interested in a trade to either of L.A.'s teams, and only if Paul Pierce is also traded, whether in that deal or another one to another team. (Garnett owns a house in Malibu.) With his no-trade clause, that pretty much means that the only reasonable option for a trade is the Clippers, and that deal has been vehemently shot down by both teams. 
Denver has its choice of what it wants to do with any available player at the deadline. The Nuggets have good players in pre-prime ages with reasonable contracts. They can play around with whatever idea they want. The issue is getting "that guy" and those guys are harder to find than ever in the NBA with the amount of superstar movement over the past four years. 
One last note: The Post reports that the Celtics are taking a lot of calls regarding Garnett. Weird for a franchise that's been so adamant it's not making any major trades. 
The Blazers guard was a guest on the Sirius XM radio show 'Sway in the Morning'

L.A. reached a three-year jersey ad patch deal with Wish, a San Francisco-based e-commerce...

John Paxson doesn't intend to buy Wade out without some sort of compromise from the 3-time...
Lonzo's signature shoes have a sleek, all-black design and will be available in November

Durant recently apologized for tweets criticizing the Thunder and Billy Donovan

Jackson says he has 'no respect' for Durant after KD created fake Twitter pages