Report: Kevin Love prefers Warriors over Rockets if traded
Golden State may not be his top choice, but the Warriors are preferred over Houston by All-Star.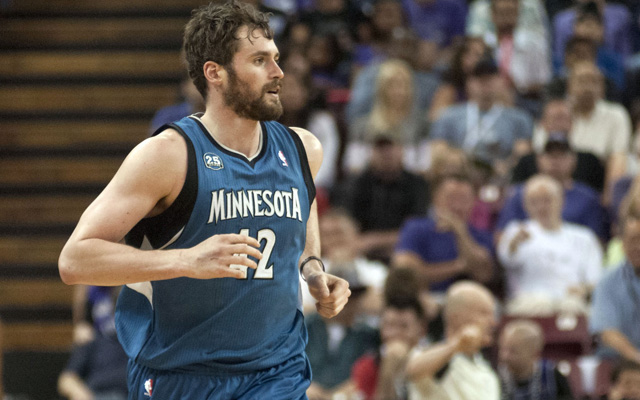 More Offseason Analysis: Coaching changes, news | Free Agency | Draft
BleacherReport.com reports that Kevin Love's preferred destination in trade is still an evolving situation, but that if the choice were to come down to the Golden State Warriors or the Houston Rockets, Love would prefer the Warriors. 
The report emphasizes the roster as a major factor, since the Warriors would provide Love with a defensive center to cover up Love's shortcomings, and an array of shooters in Steph Curry and Klay Thompson to help spread the floor. One complication there is that any deal the Warriors would construct for Love would almost unilaterally have to include Thompson, who the Warriors have reportedly said is off the table. 
The report also indicates that Love values a return to California where he's from over Houston, despite the Rockets' combination of Dwight Howard and James Harden. 
It should be noted that the reporter sourced on Love's preference works for Comcast Bay Area which covers the Warriors and has significant ties to the team. 
In truth, neither the Warriors nor the Rockets can provide a set of assets which the Timberwolves will find adequate for the All-Star power forward. They're seeking multiple assets and picks, which the Cavaliers, Bulls and Celtics can all provide. Love was in Boston over the weekend visiting, sparking a firestorm of discussion on if he was scouting the town as a potential landing spot. 
Timberwolves President of Basketball Operations Flip Saunders said this week that he "expects" Love to be with the Wolves next season. 
A report last week indicated Charlotte is looking to move Walker, along with one of its hefty...

Barea responds by claiming that none of Wall's teammates like him; the Wizards continue to...

Cousins finished with 44 points, 24 rebounds, and 10 assists
Love left Saturday's game, which the Cavs lost 148-124, due to illness

Kidd was fired by the Bucks on Monday afternoon

We've got all the scores, highlights and news from an NBA Monday