Report: Kevin Ollie wants more than Steve Kerr money to jump to NBA
Steve Kerr got a five-year, $25 million deal from Golden State, and Kevin Ollie reportedly wants more than that to leave UConn.
• 2 min read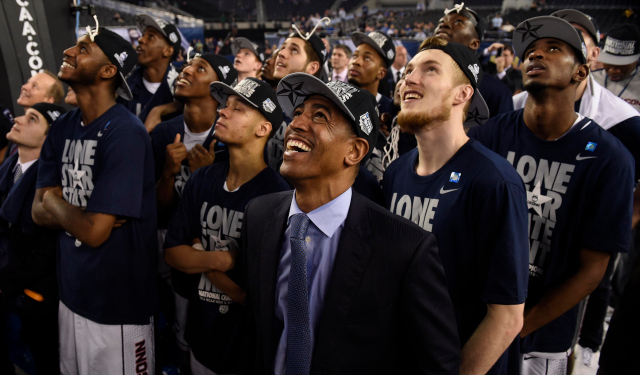 More Offseason Analysis: Coaching changes, news | Free Agency | Draft
After winning a national championship as the head coach of the UConn Huskies, Kevin Ollie's name has surfaced as a potential NBA coaching candidate. If he is to make the jump, he will want a contract larger than what Steve Kerr signed with the Golden State Warriors, according to Jason Lloyd of the Akron Beacon Journal:
One source with knowledge of at least one team's coaching search said Ollie will want a contract larger than the five-year, $25 million deal the Golden State Warriors handed Steve Kerr.

The reasoning is simple: Ollie has a longer record of success and accomplished more (won a national title) than Kerr has as a head coach. This is Kerr's first head-coaching job.
Ollie has said that he wants to be at UConn but that he would listen to NBA offers, and he is reportedly in the middle of renegotiating his contract with the university. Considering his experience as a pro point guard and the reputation he earned while he was in the league, it is no wonder that he's a hot commodity. One team in particular -- not the Los Angeles Lakers -- is reportedly making a strong push to bring him aboard, according to the Los Angeles Daily News' Mark Medina.
An undisclosed NBA team not named the Lakers reached out to Ollie about interviewing for its vacant head coaching position, leaving the UConn coach mulling over the team's latest extension offer, according to a league source familiar with the situation.

"A team has come at him hard. It's going to be interesting," the source said. "He's always preferred UConn. But he may have a decision to make."

Ollie's current contract runs through the 2017-18 season, but both Ollie and the Huskies are mindful of his increased market value stemmed from UCONN's recent NCAA championship and heightened NBA interest. Ollie's contract offer is believed to be about double of the $1.25 million he made this past season.
If all of these reports are accurate, Ollie is looking for an NBA team to offer more than double what UConn is offering in terms of yearly salary. As loyal as he may be to his program, that would indeed seem too much to turn down. The LA Daily News reported that Ollie wants to make a decision "soon," so perhaps a bidding war is imminent.
Minnesota has even bigger expectations headed into next season. Can it live up to them?

When the NBA MVP odds came out, it got us thinking: Will stat-compiler Russell Westbrook win...

Durant labeled the Cavs' situation as a regular problem in the NBA
James takes to Instagram for a better look at the Cavs' new Nike-made uniforms

Kevin Durant says he doesn't agree with what President Donald Trump agrees with

Evaluating where the future Hall of Famer might land up if he is freed from Chicago's rebuilding...