Report: Kings' DeMarcus Cousins wants a max extension or a trade
The agent for DeMarcus Cousins is reportedly saying his client needs a max contract extension from the Sacramento Kings this summer or a trade.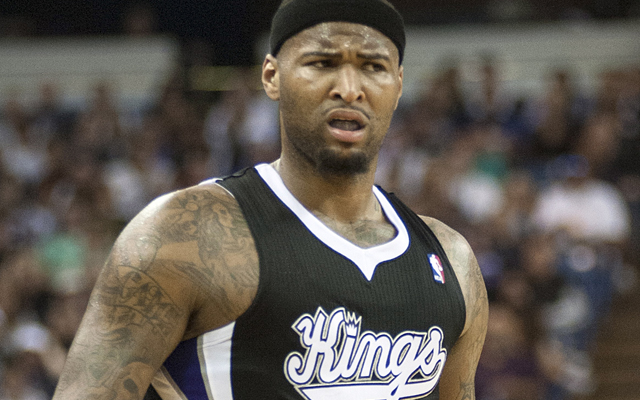 With the Sacramento Kings under new ownership, new management and a new coach, their next move is to make sure the building blocks they have with the organization want to move forward with them. The biggest building block the Kings have right now is center DeMarcus Cousins, who, during three years in the NBA, has had a rocky relationship with his coach, management and seemingly everybody. 
Cousins' talent is undeniable; it's simply a matter of can you deal with someone who doesn't seem to have a filter for his emotions? The Kings believe they can deal with him and want to deal with him, but reportedly that means they'll have to give him a max contract extension if this relationship is going to be long-term. From the Sacramento Bee: 
His agent, Dan Fegan, has instructed Cousins not to speak on anything relating to the Kings team, management or ownership.

Cousins is eligible for a contract extension this summer, and Fegan wants a maximum deal for his client with the threat of a trade demand looming if a deal isn't reached.
Dan Fegan is a smart man. He knows that the Kings organization has to continue to make big splashes with the new ownership to show fans they can trust the team again. This causes fans to be willing to continually spend money on tickets, merchandise and more, which gives the ownership a successful business venture. And if the team is successful, there won't be any problems finalizing the new downtown arena plans.
To do this, they have to retain their best pieces right now and continue to build forward with them. Cousins is the best player on the team and the new ownership will have pressure to either make him work as a cornerstone or move him for maximum value that brings in a huge return. Either way, it's a great way to use the player's leverage in these negotiations as the deadline for his contract extension approaches.
In his three seasons, Cousins has averaged 16.3 points, 9.8 rebounds and 2.3 assists. However, he's made just 44.8 percent of his shots and has had many run-ins and issues that have made people wonder if he's worth the trouble. We'll find out in the coming months if the new Kings brass thinks he is.
The Rockets apparently aren't going to rush their new point guard back

The Bucks are going all in on retro with their jerseys and court design

Mike McClure, a DFS pro with more than $1M in winnings, gives optimal DraftKings and FanDuel...
LaVar's son couldn't live up to LaVar's hype. But there's more to this story

Carmelo Anthony is hoping for Kristaps Porzingis to see success on his own

Bill Reiter and Reid Forgrave break down the debuts of Lonzo Ball and OKC's new big 3, plus...