Report: Kings nearing extension for DeMarcus Cousins
The Kings are working out details on an extension for DeMarcus Cousins, according to a report.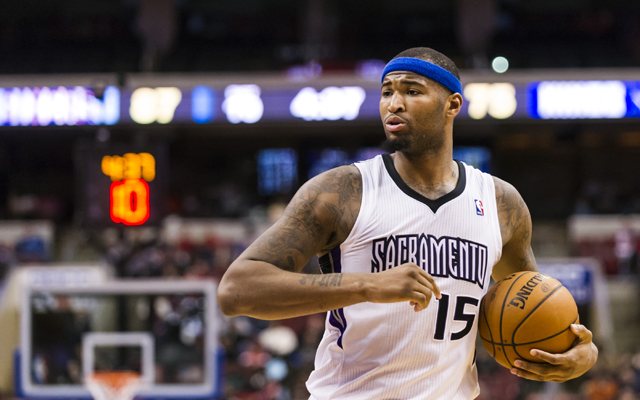 DeMarcus Cousins' young NBA career has been a bit rocky, but the mercurial player has undeniable talent and because of it, he's still going to get paid. 
According to ESPN.com, the Sacramento Kings and Cousins are nearing an agreement for an extension. The deal is on pace to be signed sometime before training camp opens next week. 
The deadline for rookie extensions is Oct. 31. 
The exact terms of the deal are currently unknown, though Cousins is reportedly seeking the designated five-year maximum deal, worth about $80 million. 
If Cousins' deals wraps up, he'll be the fourth player from the 2010 draft class to be extended, joining John Wall, Larry Sanders and newly inked Paul George. 
Cousins has been routinely been near the top of the league in technical fouls and has been suspended more than once, including by his own team last December for "unprofessional behavior."
The 23-year-old has battled labels including immaturity and being a head-case, but the Kings are under new ownership and have a new front office. The previous regime didn't seem to instill a very positive environment for development, so maybe in a more positive situation Cousins can flourish and flash some of those skills that make him one of the more intriguing big men in the league. With the dysfunction of Sacramento possibly put behind, Cousins might have an opportunity to dig in and focus a bit more on basketball. 
If the Kings and Cousins can't agree on a deal by Oct. 31, he would then head to restricted free agency next summer. 
Cousins averaged 17.1 points and 9.9 rebounds in 75 games last season. 
Deciding who to watch on League Pass can be difficult, but these rankings promise to help

Veteran forward signed a one-year deal with the Knicks in offseason

Knicks forward had his truck stolen out of his driveway
The Celtics will send No. 34 to the rafters in Boston when they take on his old rival

It's never too early to look at June's NBA Draft

Cousins uses some colorful language to get his point across