Report: Kings pull 4-year, $52 million offer sheet for Andre Iguodala
The Kings offered Andre Iguodala four years, $52 million, before yanking the offer when Iguodala wouldn't commit.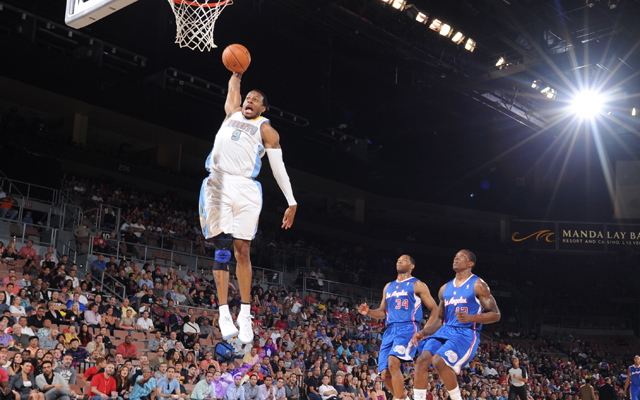 The Kings extended an offer sheet to free-agent guard/forward Andre Iguodala on Tuesday for four years, $52 million ... and then ... they didn't.
Confused? So are we.
On Tuesday afternoon, reports surfaced that Sacramento had offered Iguodala the offer sheet after meeting with him earlier this week. The Kings are also considering a four-year, $40 million-plus offer sheet to Tyreke Evans extended by the New Orleans Pelicans. So the Kings were trying to get a star forward, and Iguodala was their best target. Their GM, Pete D'Allessandro was part of the team in Denver that traded for him last summer. 
And then ... things got weird. USA Today has the scoop: 
The Kings wanted an answer from Iguodala, who was still considering returning to Denver while also being pursued by the likes of Detroit and others. When Iguodala wasn't prepared to give the answer quick enough for the Kings' liking, they made the calculated decision to go a different direction. What direction that is however, wasn't immediately clear.
via Sacramento Kings pull lucrative offer to Andre Iguodala.
Just before word of the Kings pulling the offer came out, Iguodala tweeted the following: 
WOW!!!!

— Andre Iguodala (@andre) July 3, 2013
Really?? Ok... MOTIVATION!!!!!!

— Andre Iguodala (@andre) July 3, 2013
So no, I don't think he took that well.
Hold on, I just hopped in my time machine and have some news to report. Iguodala held the Kings backcourt to negative-17 points in the first meeting between he and Sacramento next season. 
Now the Kings try to figure out whether to match the offer for Evans or maintain space and go in a different direction. 
OKC fans welcomed the 10-time All-Star at the airport with chants of 'Melo!'

Jordan joined LeBron James to show support of those who wish to exercise their freedom of...

Wade opted in to his $24 million player option earlier this summer
Barkley spoke to the NFL Today crew about the response the president received in his home...

The restricted free agent has a deal in place that will keep him with the Bulls after a st...

James' support continues his trend of social activism on social media