Report: Kings turn down Rockets offer of Kyle Lowry and No. 16 for No. 5 and Hayes
Kings reportedly reject offer of No. 16 pick and Kyle Lowry for No. 5 overall pick and Chuck Hayes.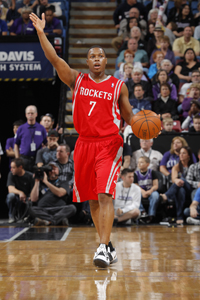 The Rockets are reportedly shopping Kyle Lowry.
(Getty Images)
NBA.com reports that the Kings have turned down an offer from the Rockets of point guard Kyle Lowry and the No. 16 pick for the No. 5 pick and Chuck Hayes. 
If accurate, the report indicates a stunning level of value the Kings are placing on that No. 5 pick as there is very little chance that the player they will get will be better than Lowry, who was a near-All-Star this season. Lowry has made public comments about his disapproval of how coach Kevin McHale handled him last season and as a result, the Rockets have been not-so-quietly shopping him in their attempts to move up in the lottery. 
The fact that this offer doesn't even include Tyreke Evans is significant as well, as it shows the desperation for Houston in trying to to acquire that top-five pick, either to use on Andre Drummond, Damian Lillard or in a trade for Dwight Howard, as our own Ken Berger of CBSSports.com reported Wednesday. 
The Rockets are doing everything possible to get into that top five, and it would appear that Kyle Lowry is for all intents and purposes very much in play to get there. Which would mean that they would not have Lowry to turn around and move in a deal for Dwight Howard, removing the best player that Orlando could get back. Very interesting developments as Thursday night's draft gets closer. 
The third member of the club might come as a surprise

LaVar said Lonzo won't lose again this week, and Marcin Gortat found that pretty funny

Eric Bledsoe is going to be traded at some point and these tweets will explain how it got...
Curry's outburst will cost him some money, but he won't miss any games

A look at the ups and downs for various suitors as Bledsoe has left the team.

Mike McClure, a DFS pro with more than $1M in winnings, gives optimal DraftKings and FanDuel...