Report: Kings working on buyout for Jimmer Fredette
The Sacramento Kings are reportedly working on a buyout for guard Jimmer Fredette.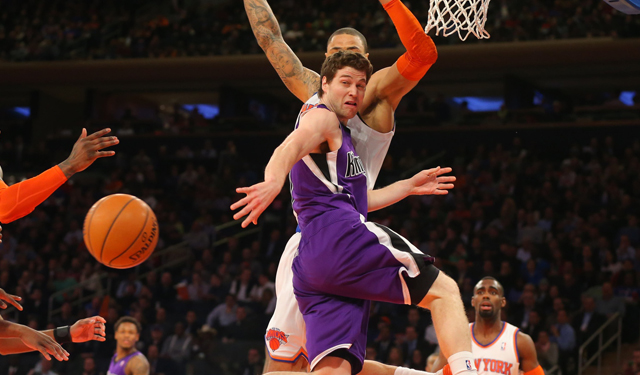 After setting college basketball on fire from 2009-11 at BYU, Jimmer Fredette hasn't panned out in the NBA during his rookie contract. As the 10th pick of the 2011 draft, Fredette was supposed to come in and be part of the long-term core of the Sacramento Kings. Instead, he's been unable to secure consistent minutes under three different coaches in his three years in the NBA. After not being able to move him at the trade deadline, it looks like the Sacramento Kings are willing to cut their losses now.
Adrian Wojnarowski of Yahoo Sports is reporting the Kings are finalizing a buyout agreement with Fredette that would make him a free agent and eligible to sign with a team looking for a shooter in their playoff push. 
The Sacramento Kings and guard Jimmer Fredette are finalizing a buyout agreement on his contract, league sources told Yahoo Sports.

Fredette, the 10th overall pick in the 2011 NBA draft, will be a free agent should he clear NBA waivers.

The Kings tried to move Fredette before Thursday's trade deadline, but were unable to find a destination for him. Fredette had been one of college basketball's most prolific scorers at BYU – scoring 2,599 points in his career – and earning consensus honors as college basketball's player of the year in 2011.
Fredette exploded onto the basketball scene as a junior at college and then took the national spotlight his senior year. He averaged 28.9 points his senior year and had some incredible scoring binges that involved shots from yards behind the 3-point line. But the concerns about a lack of athleticism, ball handling, and defensive ability at the NBA level have kept him from being a consistent contributor in his first three years. 
He's averaging only 15.0 minutes in his three-year career so far, despite being a career 40.2 percent 3-point shooter. His minutes have been on a decline too, dropping down from 18.6 his rookie year under Paul Westphal and Keith Smart to 11.3 this season under Mike Malone. His per-36 numbers are impressive at 18.7 points and 4.7 assists, but his horrendous defensive ability has kept him from earning more time.
While he has seen a decline in his minutes, he has seen a rise in his percentages over his three seasons. His rookie year he shot only 38.6 percent from the field and 36.1 percent from downtown. That went up to 42.1 percent and 41.7 percent, respectively, in his sophomore season. This season he's up to 47.5 percent from the field and 49.3 percent from 3-point range. However, his overall impact on the floor hasn't been enough to earn more minutes under a young coach that wants defensive intensity. 
ASM represents dozens of NBA players, including Kristaps Porzingis, Kyle Lowry and Serge I...

Barea will return with members of his family after Mark Cuban loaned him the team plane

Wade, recently bought out by the Bulls, has reportedly made his decision
Dwight Howard apparently wasn't well liked by some of his Hawks teammates

Kyrie Irving created a movement -- but even he had no way of knowing the damage he could d...

Parsons, a Magic fan growing up, says his situation in Memphis with the injuries and big contract...