Report: Knee MRI negative for DeMarcus Cousins, says he's 'fine'
Sacramento Kings' big man DeMarcus Cousins hurt his knee during a USA Basketball practice in Chicago and will have an MRI to check it out.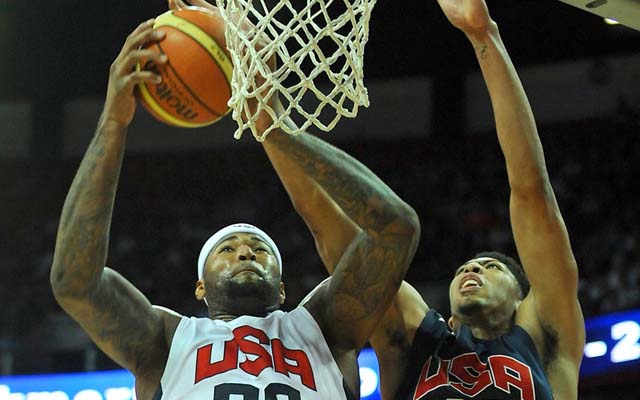 More Offseason Analysis: Coaching changes, news | Free Agency | Draft
Update 10:39 p.m. by Matt Moore: Yahoo Sports reports that Cousins' MRI was negative and he's day-today, so it looks like Team USA, Cousins, and the Kings dodged one. 
MRI revealed no structural damage for DeMarcus Cousins and he's day to day.

— Marc J. Spears (@SpearsNBAYahoo) August 14, 2014
---
While going after a loose ball during a USA Basketball practice in Chicago, Sacramento Kings' center DeMarcus Cousins appeared to have hurt his right knee. He yelled while down on the floor and had to be helped off to a trainer's table, where he was watching the rest of the team's scrimmage with a bag of ice on his knee. Cousins took a few "careful steps" in an attempt to test his leg at one point.
Director of USA Basketball Jerry Colangelo told reporters that Cousins will have an MRI on the injured right knee and the hope is that it's just a mild sprain. From Jay Cohen of the Associated Press: 
Colangelo says Cousins to have MRI on right knee. Hoping just a mild sprain. Cousins took a few careful steps to test leg

— Jay Cohen (@jcohenap) August 14, 2014
Cousins tweeted Thursday afternoon that he's "fine."
Thanks for all the concern, I'm fine

— DeMarcus Cousins (@boogiecousins) August 14, 2014
There aren't many big man options left for Team USA and with stars like Kevin Love, Kevin Durant, and Paul George pulling out of play due to various reasons (George's obviously being the most severe after his injury), the talent pool from which to choose is getting smaller and thinner. Cousins recently talked about being crushed if he didn't make the cut for the Team USA roster going to play in the FIBA World Cup in Spain. As Cousins works his way from being known as a headache in the NBA to trying to be a star in the NBA, having a successful run with Team USA would go a long way for rebuilding his image and establishing himself further in the league.
Cousins was part of a 16-player talent pool after George pulled out due to his injury and Team USA cut John Wall, Bradley Beal, and Paul Millsap from the remaining pool of players. Anthony Davis, Andre Drummond, and Kenneth Faried are the main big men left, while guys like Chandler Parsons and Rudy Gay (a late addition and teammate of Cousins') could also play some small ball power forward.
Is this rock bottom for the Cavaliers because it sure feels like it is

Wade, as he's done so many times in his career, threw it up to LeBron for the thunderous f...

The Warriors coach added there should be no shame in being picked last since everyone's an...
We've got all the scores, highlights and news from all of Saturday's games

The two teams have reportedly not had any substantial discussions to this point

Oladipo may be getting most of the shine, but this second-year big man has been phenomenal...