Report: Knicks add Mark Jackson to list of coaching candidates
New York will reportedly look at former Warriors coach Mark Jackson to fill their coaching vacancy.
More Offseason Analysis: Coaching changes, news | Free Agency | Draft
Triangle or not, the Knicks thinks Mark Jackson can coach. The New York Post reports that the Knicks plan to interview fired Warriors coach Mark Jackson for their coaching vacancy in the wake of Steve Kerr's decision to take the Warriors job instead of heading to New York. This in spite of the fact that Jackson doesn't specialize in Jackson's hallowed "Triangle" offense he learned from Tex Winter. 
The Knicks coaching search is expanding beyond geometry. Phil Jackson, according to an NBA source, is OK hiring a head coach who doesn't specialize in the triangle.

According to the source, that means Mark Jackson is on Jackson's tentative list that once included just one name. But now Steve Kerr is headed to Golden State and Jackson is headed on a more expansive search.

The Knicks believe Jackson's "credibility'' around the league will enable him to have the "flexibility" to hire an experienced coach willing to adapt to the principles of his triangle offense — or at least a facsimile.

According to a source, Jackson was to meet with Knicks general manager Steve Mills on Thursday night at Chicago's pre-draft combine to go over some candidates. Jackson stayed away from the gym where players worked out, presumably to avoid media.
via Zen Master would hire non-triangle coach, so Mark Jackson's in play | New York Post.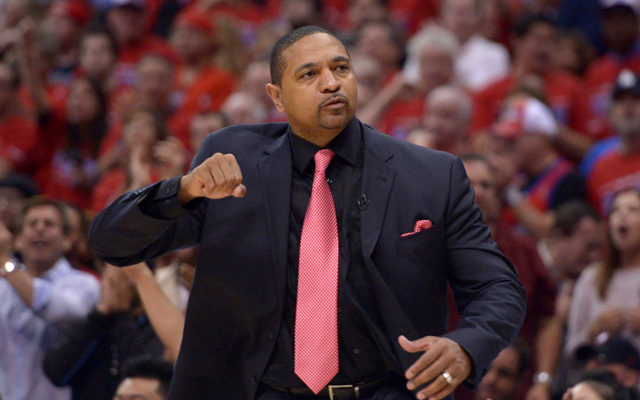 It would be an interesting move for the Knicks on multiple levels. If the knock on Jackson is his X's and O's acumen, a perception he's insulted by on a deep and personal level despite the Warriors' offense looking like kids throwing firecrackers sometimes, then putting him under Phil Jackson is probably a good combination of skills. Meanwhile, Jackson has a tough defensive attitude and a capacity for getting through to players to get them to play hard for him. 
How would Jackson's hyper-religious approach go over in New York, or with that locker room? Jackson is heavy on isolation principles and trusting your best player... could that help bring back Carmelo Anthony in free agency? If Phil urged him to, would Jackson adopt the Triangle? 
Meanwhile, Derek Fisher is reportedly the "front-runner" for the job, even as Fisher gets set to play in the Conference Finals with Oklahoma City. 
Cousins suffered a torn Achilles tendon on Jan. 26, and will miss the rest of the season

Ingram has become one of the team's go-to players with Lonzo Ball sidelined with an injury

Giannis skipped EuroBasket last summer, and has missed four games this season with knee so...
Some of the best and worst from the league as we head into the home stretch of the season

Cuban acknowledged that tanking is 'brutal' and that he will no longer do that after this...

Cho has been the GM in Charlotte since 2011