Report: Knicks considering backcourt trades including Shumpert, Smith
J.R. Smith or Iman Shumpert could be moved by Knicks in effort to clear logjam. If one of them has to go, which one?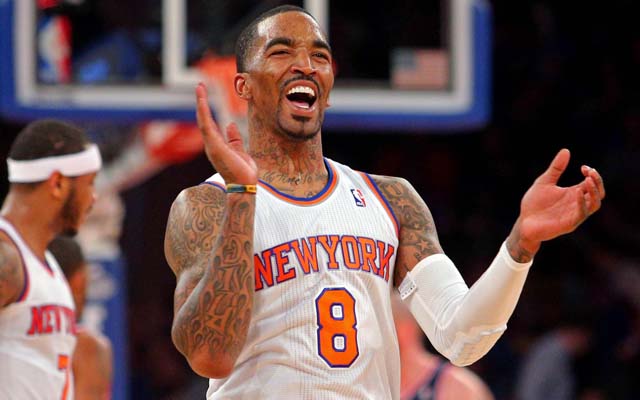 More Offseason Analysis: Updating Free Agency news | Free Agent tracker
ESPN reports that the New York Knicks are looking to trade one of their guards, with J.R. Smith, Iman Shumpert, and newly acquired Shane Larkin on the table, but apparently sophomore Tim Hardaway Jr. is not among those available. 
Working to clear the logjam in the backcourt, the Knicks are discussing their potential trade options with guards J.R. Smith, Iman Shumpert and Shane Larkin, a league source said Sunday.

"They're working on trying to make a move in the backcourt," the NBA source familiar with the Knicks' thinking said Sunday.

The idea that the Knicks are trying to make a trade to balance the roster isn't earth-shattering. President Phil Jackson and GM Steve Mills have mentioned the Knicks have a surplus in the backcourt, with Mills saying last week the Knicks are "heavy" at shooting guard.

The issue for the Knicks, of course, is deciding whom to send out in a trade and figuring out what they can get in return in such a transaction.

Tim Hardaway Jr. has been deemed virtually untouchable, per a source.
via Source: Knicks open to dealing J.R., Shump - Knicks Blog - ESPN New York.
Larkin, obviously, is easily moved, having just been acquired from Dallas, and while he shows a number of great things, is still a long way from being a starter. 
But if they want to make a signficant move, it's Smith and Shumpert. Let's start with Shumpert. 
It's been fascinating to watch the evolution of the Knicks' relationship with Shumpert. He was a bright-eyed talented rookie who battled to get back from a major knee injury, then returned as a pure 3-and-D guy, one of the few Knicks last season who legitimately played within his role. And yet he's consistently been on the trade block for over a year. Mike Woodson soured on him, and jerked him around in preseason. There were rumors that James Dolan had essentially turned on him for bailing on summer league last year. 
There was thought when Phil Jackson came in that he was high on Shumpert and that was the end to him being on the table. Less than two months later, Shumpert wound up in talks again. Whatever it was that happened in-between Jackson taking over and now, it wasn't good for his consideration of Shumpert. 
Shumpert is young, energetic, a voracious defender with athleticism and upside, and a true 3-and-D player. Observe the shot chart. 
The big key there are those yellow and orange dots on the corners, especially that 48 percent mark from the left side. That makes Shumpert more valuable. His struggles offensively elsewhere are actually, to a degree, a benefit. It means that re-signing him will be cheaper than a better offensive player when his rookie contract comes up for extension. 
And then there's J.R. 
Smith had a "breakout" season in 2013, winning 6th man of the year despite shooting 42 percent from the field. Then last year, he was a disaster, shooting 41.5 percent, getting fined for messing with players' shoelaces and averaging 3.6 points fewer per game. 
And yet, further consideration, particularly past his early season struggles and in a bigger context, shows that he was more efficient. Essentially, Smith shot more 3s at a better clip and fewer long-range 2s. 
Here's the transition. Click to enlarge: 
So
He took fewer shots in the paint, but that transition from mid-range, where he's a bad volume shooter, to the perimeter, where he's an exemplary catch-and-shoot assassin, is significant. 
So this is a little tougher than it may seem on the surface. On top of all of it, Smith is a shooter with a loose trigger. Phil Jackson's triangle teams have been filled to the brink with players of that profile. And if Jackson believes, in any way, that his voodoo can work and transition Smith into a smarter, more controlled player, then it's worth taking the risk on keeping Smith. 
As far as the money, Smith is owed $5.9 million next season, with a $6.4 million player option the next season. Shumpert, on the other hand, is up for restricted free agency next summer, which would give the Knicks a bit more flexibility. In short, they can trade Smith, then sign-and-trade Shumpert in restricted free agency and clear even more cap space for whatever Star Wars adventures they have planned for 2015 and 2016. 
The Knicks are still trying to figure out who they are. And they could really use some more versatility on the roster. Trading one of those weapons is a good call. Figuring out which one, that's the real trick. 
Trail Blazers guards Damian Lillard and C.J. McCollum have been pushing for Anthony to join...

Anthony reportedly gave the Knicks an expanded list of teams he'd waive his no-trade clause...

The Suns will also receive a second-round pick in the deal
Kerr noted Warriors are deeper than the NBA championship team of last season

The Dubs will make a decision as a team on visiting the White House, but Steph would vote...

Wolves are an up-and-coming NBA squad, but this region knows heartache too well