Report: Knicks' front-office moves built around keeping Melo
New York reportedly reassigned GM Glen Grunwald and hired Steve Mills as head of basketball operations in order to convince Carmelo Anthony to stay in free agency.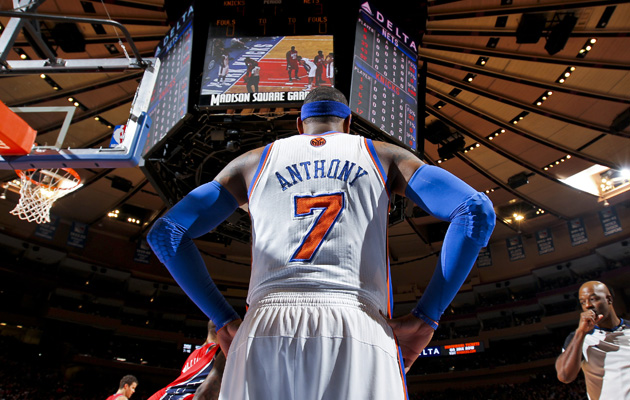 Bleacher Report reports that the Knicks' move to hire Steve Mills and reassign Glen Grunwald as GM was motivated by concerns over Carmelo Anthony's impending free agency. 
But Thursday's front-office shakeup is not really about Mills or Grunwald, the Knicks' recent past or the season that will soon be underway. This is about Carmelo Anthony, next summer and the summer after that.

Anthony can opt out of his contract in July, and the franchise is rightfully fearful that—despite his public statements to the contrary—he might walk away. The Knicks are carrying an expensive, capped-out roster, peppered with misfits and fragile veterans. Their window to contend in the Eastern Conference might already be closing. It would slam shut if Anthony flees next summer.

As one rival team executive said of Thursday's moves: "It was all to keep Carmelo."

The same executive said he believed that, if the decision had to be made now, Anthony would leave.

Anthony is said to be agitating for change, for help on the court, for reassurance that the Knicks are capable of acquiring elite talent. If he elects to stay next summer, it will have to be with the confidence that the Knicks can land another star in 2015, when they are expected to have millions in cap room.
via NY Knicks Front-Office Shakeup: Grunwald Out, Mills In, and Melo in the Middle | Bleacher Report.
Pretty shocking that Anthony would leave right now. To review what the Knicks have done for him:
• Liquidated a good team full of young, versatile talent and capable veterans to get him, along with draft picks.
• Fired Mike D'Antoni.
• Hired Mike Woodson which helped install a more Iso-friendly offense suited to what Melo thinks are his strengths.
• Loaded up into the luxury tax to high, if not Nets-ian levels.
• Put together a roster that won 54 games last season, capturing the second seed in the East and beating long-time rivals the Boston Celtics before falling to a very good Pacers team.
So what is it that Anthony wants? Well, he wants what all superstars want. He wants to win a championship while being paid a max contract and being "the man" in a major market. And he wants to do it without adjusting his game at all. And that, of course, is the real source of the Knicks' trouble. It's not building around Anthony, a superb talent and athlete who can score as well as nearly anyone in the league. It's abandoning any sense of a culture or a sense of responsibility in which Anthony could be held accountable for his decision-making on the floor. 
Building around a star is a great idea. Building around Anthony is a wonderful idea. Giving him the green light to run isolation after isolation and to constantly cowtow to him is not a good plan. Pat Riley built LeBron James a new kingdom, but he also set boundaries and urged him to be the best version of himself. The Knicks just buy the kid in the toystore whatever he wants as long as the grades stay up. 
Mills' hiring seemed odd at the time, but we needed to see the fallout. As sources around the Knicks start to reveal the picture, it's yet another sign that James Dolan may be unable to stay out of his own way long enough to reap the benefits of the good thing he's created. 
Anthony said on September 12th: "I'm not going nowhere," when it comes to free agency. Suddenly because of the Knicks' decisions, it seems the question may not fade as quietly from the headlines as we thought. 
Hayward is expected to make a full recovery, but don't expect to see him on the court this...

Well, Suns fans ... it can only go up from here

Teague no longer plays the game, however, because he's mad about his rating
Our NBA scribes break down what we've learned from the first two nights

Imagine if the Orlando rookie ripped off his warmups and stepped on to the court topless

After Brett Brown said his star would likely play somewhere in the teens, Embiid logged 26...