Report: Knicks 'getting closer' to engaging in Carmelo trade talks
New York reportedly still isn't actually willing to discuss moving its superstar.
• 2 min read
The New York Knicks signed Carmelo Anthony to a five-year contract in the 2014 offseason, and the All-Star forward is now in a strange place. The Knicks won 17 games last season, selected project big man Kristaps Porzingis with the No. 4 overall pick and then used the offseason to sign non-stars Arron Afflalo and Robin Lopez. It's hard to believe it was as recently as 2012-13 that the Knicks went 54-28 and seemed to be an emerging force in the Eastern Conference.
Some say that he and the Knicks would be better off without each other, and Grantland's Zach Lowe indicated -- in a piece about Markieff Morris, strangely enough -- that the franchise is "getting closer" to exploring that possibility:
The Kings and Knicks should take a look, even though neither has movable assets that would interest Phoenix — unless the Knicks are ready to engage in Carmelo Anthony trade talks. (They're not there, yet. But they're getting closer.)
Anthony, 31, could have signed with the Chicago Bulls or Houston Rockets last summer and put himself in a position to compete for championships. Instead, he chose to stay where he was comfortable, make more money and try to turn his team around. If that's impossible, maybe it makes sense to move him -- an Anthony trade could bring back young assets and draft picks, which is what New York needs. With this roster, challenging for a lower-rung playoff spot is probably the best-case scenario this year, and then president Phil Jackson will be counting on a star joining Anthony in free agency. There's no guarantee that will happen, so the safer bet might be moving on and fully committing to a new plan. 
Here's why there probably won't be a trade, at least not yet: the Knicks seem to want to be respectable, and you can build a good offense around Anthony. Tanking wouldn't help in 2015-16 because they don't have their draft pick. Lopez is 27 years old and Afflalo will be 30 by opening night, so it's not like Jackson has gone all-in on youth with the exception of his No. 1 guy. Oh, and Anthony has a no-trade clause -- he'd have to approve of any deal, like Kevin Garnett did last season when the Brooklyn Nets sent him to the Minnesota Timberwolves. New York would presumably have to be blown away by an offer, and Anthony would have to view his potential new home as an upgrade. 
It's relevant, though, that the Knicks might at least be willing to discuss Anthony as a trade piece. He's their franchise player at the moment, but if they're not in a significantly different place this time next year, he won't make much sense in New York. Surely, Jackson is very much aware of this.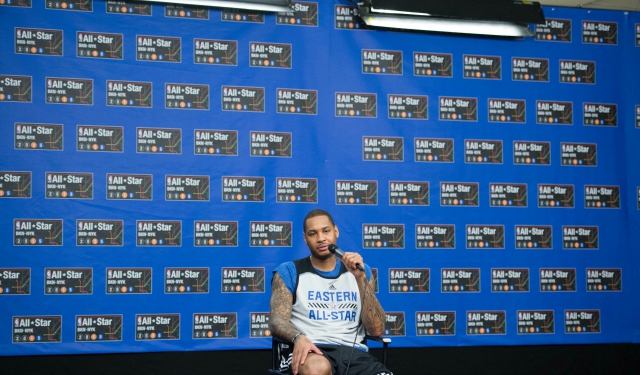 CBS Sports HQ Daily Newsletter
Get the best highlights and stories - yeah, just the good stuff handpicked by our team to start your day.
Please check the opt-in box to acknowledge that you would like to subscribe.
Thanks for signing up!
Keep an eye on your inbox for the latest sports news.
Sorry!
There was an error processing your subscription.
The Lakers are trying to zag while everybody else zigs

Keep checking back for the latest updates as NBA free agency continues

LeBron was on hand to support some of his new teammates in Vegas
Here are the top prizes left in the 2018 NBA offseason

All the info on the top names still on the market this offseason

Rivers lost his title as team president but says "I'm still involved in every decision, so...