Report: Knicks have Russell Westbrook's attention for 2017
Thunder guard Russell Westbrook will be a free agent after next season, so let's get silly with speculation.
• 1 min read
Russell Westbrook won't be a free agent until 2017, but it's apparently never to early to start speculating about his future. Earlier this month, there was a rumor that the Oklahoma City Thunder star could already have his eye on joining the Los Angeles Lakers. Now, Yahoo Sports' Adrian Wojnarowski is reporting that the New York Knicks are a possibility, especially because of the presence of rookie forward Kristaps Porzingis:
The Knicks have a real chance to sell Oklahoma City's Russell Westbrook in 2017 – New York and Porzingis have his attention, yes – and Jackson ought to start constructing an elite coaching staff to begin that process with Westbrook and with free agents beyond him.
A few thoughts:
1) It's interesting that the sentence about Westbrook comes directly after one saying that "most believe [Phil] Jackson is a short-timer on the job." Yahoo Sports reported that Jackson, the Knicks president, could already be looking at joining his fiancée, Jeanie Buss, in Los Angeles. If that is indeed the perception, Jackson will need to change it if he wants a shot at Westbrook and other top-tier free agents. 
2) There is so much time between now and Westbrook's free agency, and there are so many variables here. Maybe the Thunder will win a title this year or next. Maybe OKC general manager Sam Presti will re-sign Kevin Durant and make another major move in the summer. We have no idea how different the landscape of the league will look even five months from now, so it's hard to know who will have a realistic chance at landing Westbrook at the end of next season. 
3) Let's just take Westbrook's name out of this and focus on New York. Carmelo Anthony is 31, and if his present knee issues don't make it obvious, his title window won't be open forever. When the Knicks signed veterans Arron Afflalo and Robin Lopez last summer, they made it clear that they were trying to compete as soon as possible. This means that free agency is incredibly important in the next two offseasons, and Wojnarowski's point is indisputable. The Knicks need to nail this coaching hire, establish that they're on the right track and have something solid to sell free agents. Yes, that includes Westbrook, but it applies to everybody.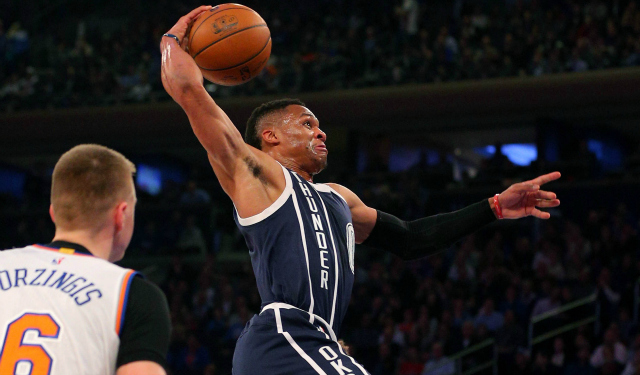 An old rivalry is reignited between LeBron James and the Cavaliers and John Wall and the W...

SportsLine's Mike McClure, a DFS pro with more than $1M in winnings, gives optimal lineup...

LeBron had 29 points, 11 rebounds, and 10 assists in the Cavs' 109-100 win over the Jazz
The montage showed Carmelo's best Knicks moments before playing the Thunder game

KCP can't leave California for 25 days due to the terms of his pleading guilty to a misdemeanor...

Keep it right here for all of the news, notes, scores and highlights from around the leagu...