Report: Knicks 'increasingly optimistic' they can re-sign Melo
Phil Jackson may have the magic spell to convince Carmelo Anthony to stay.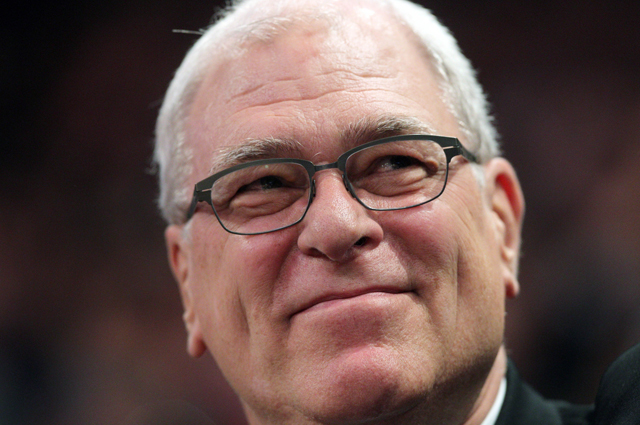 More Offseason Analysis: Coaching changes, news | Free Agency | Draft | Rumors
ESPN reports that the Knicks are 'increasingly optimistic' they can keep Carmelo Anthony in free agency. Based not only on speculation and rumors but comments from team president Phil Jackson, there had been a belief that it was unlikely Anthony would return, or that the Knicks would go all-out to keep him when he becomes an unrestricted free agent July 1. 
The New York Knicks are increasingly optimistic about their chances of re-signing star Carmelo Anthony even as he readies himself to talk to other teams next week, according to sources close to the situation.

Sources told ESPN.com that Knicks officials, while not willing to trumpet it publicly with free agency fast approaching, are quietly confident about their odds of retaining Anthony thanks in part to the idea that new team president Phil Jackson and the high-scoring forward have "connected" to some degree.

...

Sources nonetheless insist that the Knicks feel far better about their chances than Jackson is letting on. No team can match the five years and $129 million that New York can provide if it wishes to offer a maximum contract to Anthony, and while Anthony is undoubtedly intrigued by the chance to team with Derrick Rose, Joakim Noah and coach Tom Thibodeau in Chicago, he also still loves the Madison Square Garden stage dearly.

Amid speculation that the Knicks are reluctant to offer a max deal to Anthony, Jackson said: "We haven't come to that. But the perception is we want Carmelo to be as interested in winning. When saying he's competitive and wants to be on a competitive team to also being able to demonstrate that if push comes to shove in a situation where he may have to take a little bit less and we're more competitive to bring in another player to help us bring this concept along."
via New York Knicks like Carmelo Anthony chances- ESPN New York.
Part of that report includes the possibility of the Knicks adding former Laker under Jackson Pau Gasol to help lure Anthony. 
Anthony's going to have some tough choices. The Bulls have basically been unofficially wooing him for months, with reports of talk between Joakim Noah and Anthony, and that Tom Thibodeau has been talking to Melo's former coaches. Meanwhile, Houston will be able to offer the chance to play with two superstars with James Harden and Dwight Howard and potentially a chance to play with LeBron James. Miami offers the same lure as LeBron, though the math would be complicated to form the Big 4 and that's considered a longshot. 
But don't discount Jackson. He has a way of reaching players that is unique unto himself and players have consistently sacrificed to play for him. If the two truly have 'connected', that could change everything about this scenario. The best thing for Anthony's career may be to leave New York, but Jackson may be able to simply cast an illusion otherwise over the situation to get Anthony to trust that he can do more in New York. 
We've got all the scores, highlights and news from all of Sunday's games

The Rockets beat the Warriors 116-108 on Saturday night

The Cavaliers gave up 148 points in their loss Saturday afternoon to the Thunder
Blatt made the comment before coaching in the All-Star Game in Turkey

Is this rock bottom for the Cavaliers because it sure feels like it is

Wade, as he's done so many times in his career, threw it up to LeBron for the thunderous f...