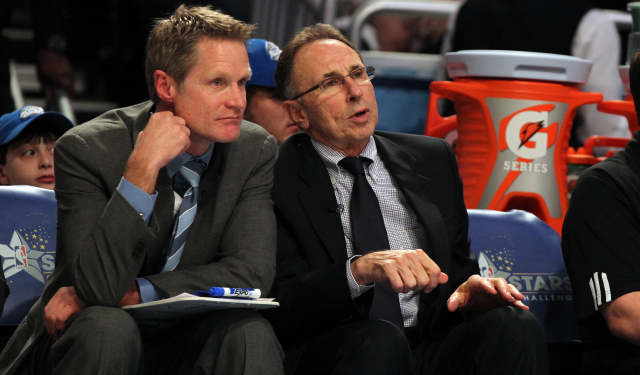 More Offseason Analysis: Coaching changes, news | Free Agency | Draft
In the days preceding Steve Kerr becoming the head coach of the Golden State Warriors, there was a report that negotiations with the New York Knicks were held up because New York wanted to pay him like a first-time coach. That original offer was for three years and $13.2 million, according to the New York Post's Marc Berman, and it kept Knicks president Phil Jackson from getting his top candidate.
The Post has learned Jackson's initial offer to Kerr was a lowball of three years, $13.2 million. That offer stuck for more than a week before the Warriors got involved Tuesday. Kerr wound up agreeing to terms with Golden State on a five-year, $22 million contract — not the $25 million that was widely reported.

Had the Knicks originally offered Kerr five years, $22 million — $4.4 million a year — he probably would have closed the deal before Golden State could reenter the fray. Jackson only bumped the offer to four years in response to Golden State's offer.
While Berman reported that Jackson was in charge of negotiations, the New York Daily News' Frank Isola reported that Knicks owner James Dolan is to blame for what transpired, and added that a league executive said Jackson looked "like a beaten man already" at the draft combine in Chicago:
Kerr wanted to stay closer to his San Diego home but was also concerned about working for Garden chairman James Dolan, who undermined the potential hiring by originally offering Kerr a three-year deal. Kerr eventually received a five-year, $25 million deal from Golden State.

Although it had been known for months that Kerr was Jackson's primary target, Knicks ownership did not appear to support the hiring.

…

"When I saw Phil today he looked like a guy who had lost $60 million," said one league executive who was in Chicago. "Last summer he looked refreshed when I saw him. Now he really looks beaten down. He didn't look good."
In a vacuum, New York deciding not to pay huge money for an unproven coach like Kerr isn't irrational, nor too concerning. There's no way to know if he will prove deserving of that sort of long-term deal. But if it's a sign that Dolan will not empower Jackson to make the hires he wants, then it is rather worrying. The owner has meddled in basketball operations in the past, but made a big show of saying he was willingly ceding authority to Jackson when the coaching legend was introduced as the team's president in March.