Report: Knicks management wants more positive outlook from team
Front office reportedly wants team to stop with the doom and gloom during an eight-game losing streak.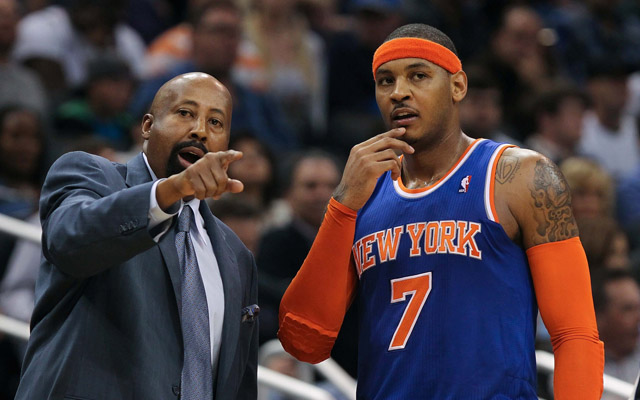 Well, you lose eight in a row, I guess the idea is "don't make things worse." The New York Post reports that the Knicks have been told by management to cut it out with all the negative talk, including coach Mike Woodson. 
Indications are a new edict has come down from above — either new president Steve Mills or owner James Dolan. Enough of the morose, hypercritical, gloom-and-doom talk, because it's making matters worse. Even the normally pleasant Mills is walking around arenas with a blank expression.

...

In the past, Dolan has frowned upon coaches being too critical of players in the press. Woodson has been taken to task for perhaps being too tough publicly on Iman Shumpert.
via Troubled Knicks adopting new positive-policy approach | New York Post.
Carmelo Anthony said last week that the Knicks are "in a dark place." Woodson has been critical of Shumpert at essentially every turn. Shumpert has struggled with his shot and had a few bad defensive games but is still the Knicks' most consistent role player. Woodson praised both Shumpert and J.R. Smith after the Knicks' loss to Denver on Friday.
Knicks management had reportedly been pressuring Woodson on lineups recently. Telling the players to cool it with the gloom and doom is one thing, but constantly trying to micromanage the coach is almost never going to work out well. It compromises his authority and presents a more overt standard of pressure on an already difficult situation. 
The Knicks were more positive to a man after the loss to Denver, with J.R. Smith saying they played better and are turning the corner. We'll see if the new positive outlook plus a return home after a West Coast road trip can turn things around for New York.  
Among the questionable decisions by Jackson was signing Noah to a long-term, lucrative dea...

This Akron store doesn't want their hometown hero to leave again

Milwaukee's star did not get cleared to play for his national team due to a painful knee i...
Ball, the second overall pick in the NBA Draft, is receiving even more hype

Rap mogul supports the vision the outspoken father has for his brand and sons

Deciding who to watch on League Pass can be difficult, but these rankings promise to help