Report: Knicks owner James Dolan met with Isiah Thomas after MSG exec resigned
New York Knicks owner James Dolan reportedly met with former team executive Isiah Thomas just days after MSG Sports president Scott O'Neil abruptly resigned.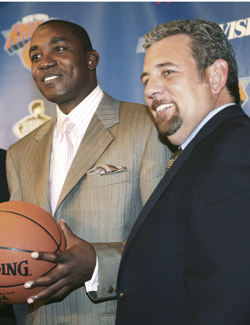 Isiah Thomas reportedly met with Knicks owner James Dolan this week.
(Getty Images)
He wouldn't. No, he couldn't. Of course he would.
New York Knicks owner James Dolan reportedly met with unpopular former team executive Isiah Thomas just days after Scott O'Neil, president of MSG Sports, abruptly resigned his position, according to the New York Post.
A band of security men surrounded the two men who were both dressed in business suits in a quiet corner of the lobby. Thomas has lobbied to return to the organization since he was fired as Florida International's basketball coach last spring.

It is possible Dolan was seeking Thomas' advice on filling the position because he has maintained his friendship with Dolan? 

Knicks coach Mike Woodson is down an assistant coach after Kenny Atkinson left for Atlanta, and it's possible the meeting centered on Thomas returning in some sort of coaching consultant capacity during training camp, which begins Oct. 2.
It's worth clarifying that O'Neil was president of MSG Sports, a division of Dolan's company that manages multiple professional sports teams, and not president of the Knicks. O'Neil's position, which the Knicks said they are beginning a search to fill, is not a basketball operations position and Thomas would seem an unlikely candidate.
Still, any reports of contact or plans between Dolan and Thomas are sure to make Knicks fans uneasy, and many are already upset that the team allowed popular guard Jeremy Lin to leave in free agency this summer. To complicate matters, Thomas has ties with Knicks GM Glen Grunwald and Woodson dating to their days as college teammates. He also reportedly participated in the recruiting of Knicks All-Star forwards Carmelo Anthony and Amar'e Stoudemire, among other free agents.
Thomas was hired by the Knicks in 2003 as president of basketball operations. He also served as coach during the 2006-07 and 2007-08 seasons. He has been linked in rumors to a possible Knicks return, thanks to his close friendship with Dolan, even after his tenure as the team's GM ended in disaster and scandal. While in New York, Thomas was found guilty of sexual harassment and oversaw a basketball operations department that was fined by the NBA for conducting illegal workouts with college prospects.
In 2010, Thomas announced he was going to serve as a consultant for the Knicks while retaining his job as coach of Florida International University. He quickly backtracked; he was fired as coach of FIU back in April.
Last May, Thomas said he would welcome a return to basketball.
"I definitely want to be in basketball again whether it be coaching or as a general manager," Thomas told ESPNChicago.com. "My gift is basketball. I would love working with the kids. If it's the right college program, I would consider it. If it's the right GM job or coaching job in the NBA, I would consider it. I love the game. I just want to be in the game."
Thomas, 50, spent a 13-year Hall of Fame career with the Detroit Pistons. The 12-time All-Star point guard posted career averages of 19.2 points, 9.3 assists, 3.6 rebounds and 1.9 steals per game.
Markieff Morris was already in line to miss the start of camp due to a pending assault cas...

The 76ers should hopefully get a lot of play out of their young guys this season

Okafor's been on and off the trade block for over a year and doesn't seem to be in Philly's...
Fisher is the fourth NBA player to compete for the Mirror Ball trophy on the show

Barkley commends the NBA, sarcastically, for extending the season and reducing back-to-back...

Enes Kanter isn't seeing much comedy in the Kevin Durant social media situation