Report: Knicks' plan is to have Rajon Rondo force a trade to New York
New York's next great masterplan for world domination involves Rajon Rondo forcing a trade to the Knicks from the Celtics like Carmelo Anthony did.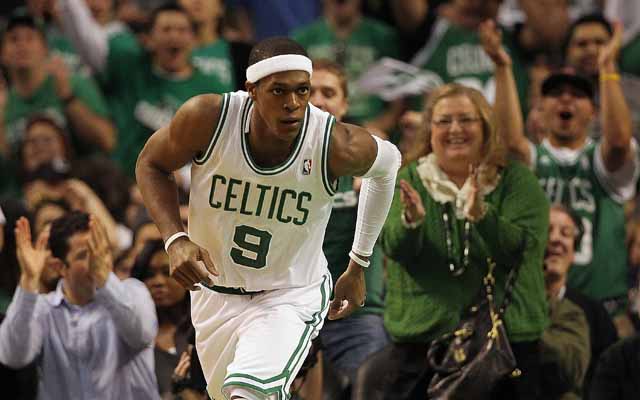 The Knicks remain a bleeding mess, lying on the floor telling themselves everything will be allright as their season ebbs from their veins, but that isn't stopping the front office from leaking what its new master plan is. 
Since their last plan of mortgaging future assets in order to bring in a superstar-studded team failed, they've clearly seen the error of their ways and realized that they need to balance building around a star like Carmelo Anthony with asset management and development of young players, building a foundation from which to build a contender. 
Ha, just kidding. They just plan on doing what they did last time, again. 
According to league sources, the Knicks' first prong is to try to attract the Celtics' Rajon Rondo. This idea has been tossed around in various forms for a while now, it's not shocking. But the way the Knicks are hoping to get Rondo is a little unusual.

It's not in free agency in 2015 but later this season or next summer when he comes back from a torn ACL. The Knicks are hoping Rondo will be interested in making a maneuver similar to what Anthony did back in 2011 and eventually try to force a trade to the Knicks, sources said.

The Celtics have consistently denied they want to trade Rondo. But once this trade deadline passes, and it isn't clear if he will even play before February, Rondo will have only one guaranteed season left on his contract. Like with Anthony when he applied pressure to the Denver Nuggets by threatening to leave in free agency, the Knicks wonder if Rondo will be able to have a say in where he might be traded if the Celtics end up fearful he'll leave in free agency.

That may seem contrived, yes, but this isn't a made-up scenario. It is a genuine option. You have to give the Knicks this: It has worked before.
via NBA: The Knicks keep losing games but not all hope, however slim - ESPN.
So I suppose the scenario goes something like this: Rondo, after it's made clear to him that New York wants him for their new "Big 3" or whatever, submarines the Celtics' working envirnoment so badly that it forces GM Danny Ainge to simply abandon any hope of getting good return for Rondo and instead takes whatever flotsam New York offers to throw their way in a trade. You know, like the Knick intended to do with Carmelo Anthony only instead they wound up giving multiple picks and four starters. 
It's a very "We're New York, we don't have to play by the rules" approach. It's also a very "tampering, in pretty much any conceivable way" approach. But because it'll all be done though the media or through back channels, there's no way to punish the team. It does suppose quite a bit from Rondo, however, as the talented point guard would have to pretty much turn into a villain to pull this off. He'd have to quit on his teammates, ruin his public reputation in Boston and league wide, all so that he can go play for the Knicks. 
Will it work? It might. Would it be successful? It's unlikely. While I've maintained for years that the thing Melo needs most is to have an alpha dog point guard around to direct him in an offense, it would also require Anthony to accept that direction. The Knicks' offense struggles because so much of it was built around simply watching Melo. It has bred an institutional laziness on offense, despite Melo this year playing some of the best basketball he ever has. Rondo would help on the defensive side, though, which is arguably their biggest area of concern.
If they were to pull this off, where would they find depth? What would they have to give up for Rondo? Is the idea of Rondo-plus-one enough to convince Anthony to stay? These are all questions beyond the reach of the Knicks' think tank. Their plan is to have "the plan," everything else that can go wrong can be attributed to simply bad luck in their eyes. 
Just look at this season. 
The Cavaliers are reportedly very close to acquiring the 10-year veteran point guard

Kobe Bryant is now an Oscar nominee. Here's how you can watch his short

Players such as Metta World Peace, Baron Davis and Nate Robinson have signed on
The guard is doing everything he can to make a name for himself (and making Cavs fans sweat...

Bryant is getting recognition for his off-the-court exploits in retirement

Our advanced computer model simulated Tuesday's Spurs vs. Cavs game 10,000 times