Report: Knicks plan to pursue Pau Gasol
Phil Jackson's carrot to lure Carmelo Anthony back is a 34-year-old former All-Star.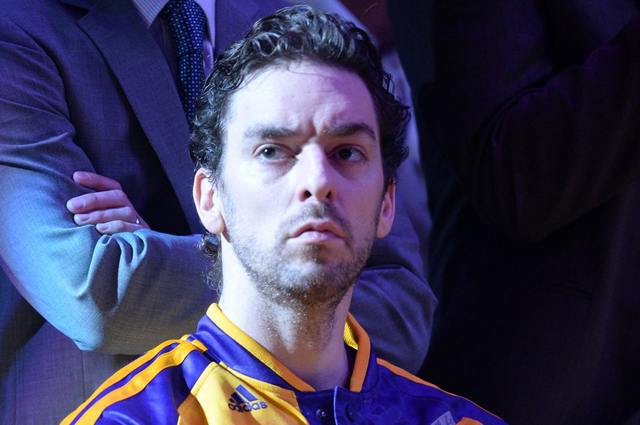 More Offseason Analysis: Coaching changes, news | Free Agency | Draft | Rumors
ESPN reports that one reason the Knicks are so confident they can get Carmelo Anthony back in the fold is that they may be able to bring in unrestricted free agent and former star Pau Gasol. 
Furthermore, one source close to the process told ESPN.com's Ramona Shelburne that Jackson is planning to make a determined attempt to try to recruit his former Los Angeles Lakers center Pau Gasol to replace the freshly traded Tyson Chandler alongside Anthony on the Knicks' front line, despite the fact New York is limited to offering Gasol less than $4 million for next season.
via New York Knicks like Carmelo Anthony chances, eye Pau Gasol - ESPN New York.
I mean, that's one way to go about trying to rebuild the franchise, by pursuing players who are definitively not the player they were five years ago. Gasol's numbers are still great, though. 19.4 points per game and 9.7 rebounds per game despite his age, injury, and athleticism limitations. He also logged 3.4 assists and is still a gifted passer. Offensively, Pau is still a top-level performer. 
Defensively, he's kind of a mess, based on his diminishing lateral quickness, a lack of bulk and a finesse game that can suffer as opponents are consistently more athletic than him now. He shot 54 percent from the field in the last year he won a championship under Jackson in LA, and just 48 percent last season. 
Still, if he can be had at a discount, it gives them a name, and names matter to Anthony. An Anthony-Gasol team with any surrounding talent is likely good enough to make the playoffs in the Eastern Conference. 
Gasol turns 34 next month. 
LeBron and Durant both responded to a newswoman's recent comments, telling them to 'shut up...

Mitchell's Slam Dunk Contest win was the icing on the cake of an incredible run of success

Dennis Smith Jr. had a great dunk contest, but the judges didn't feel the same way
Mitchell was awesome, but Larry Nance Jr. and Dennis Smith Jr. had some serious moves of their...

Silver noted that there are many factors at play with the issue affecting both the NBA and...

Jazz rookie Donovan Mitchell came in as a replacement and ended up winning the whole thing