Report: Knicks plan to sign Jimmer Fredette from D-League
New York to unleash Jimmer Mania as the diminutive gunner is back in the NBA.
Jimmer Fredette is back in the league. ESPN reports that the New York Knicks will sign the former Kings, Bulls, and Pelicans guard to fill an open roster spot. 
The Knicks plan to sign Jimmer Fredette with their open roster spot, league sources tell ESPN. Story coming.

— Ian Begley (@IanBegley) February 19, 2016
It's not yet known if it's a 10-day contract or a full-season deal for the former BYU sharpshooter.
Fredette was once a top-10 pick after his explosive scoring seasons in college, but a lack of size, athleticism, and any discernible skill outside of shooting at an NBA level limited him. He still shows a huge potential to score in bunches, as he did in setting a record for points in the D-League All-Star Game last weekend.
He's also not a bad fit in the Triangle. He can shoot from the corner to space the floor and cut to the rim if left completely open. Knicks fans will undoubtedly love him, as he's a gunner with a big reputation who can get crazy hot from outside. 
Unfortunately, there's a pretty expansive record that shows Fredette is likely not an NBA player. He's 26 now, there's not much room for improvement, and he's not getting longer or more explosive. But he's becoming a stronger point guard, and many have felt that he just needed the right situation and the right opportunity to cash in and translate his incredible shooting skill at the next level. Maybe that opportunity is with Kurt Rambis and the New York Knicks.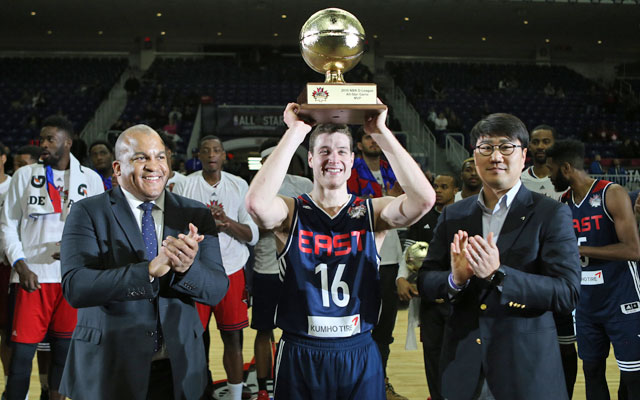 Kevin Durant says he doesn't agree with what President Donald Trump agrees with

Evaluating where the future Hall of Famer might land up if he is freed from Chicago's rebuilding...

Adam Silver said his piece with the schedule out; we address that and what the slate looks...
The Hawks and Sharecare reportedly agreed to terms on a five-year deal

A look at the context of the schedule and who plays who when, and how far they travel during...

Durant took on rapper Lil Dicky and actually might have lost