Report: Knicks, Steve Kerr could agree to deal by Draft Combine
The New York Knicks and Steve Kerr could reportedly have a deal in place to make him the new coach by the time the 2014 Draft Combine starts on Thursday.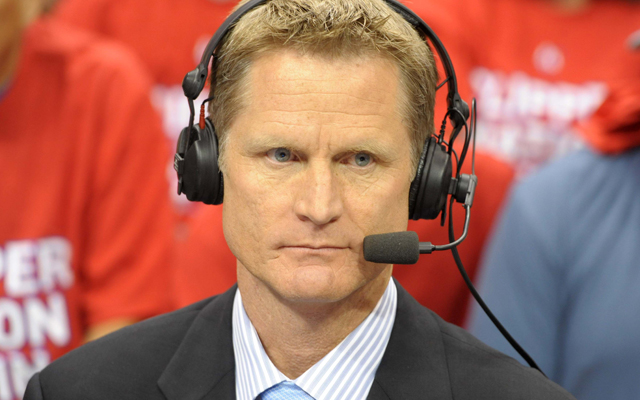 More postseason coverage: Playoff schedule, results | Latest news, notes
Steve Kerr has been the main target of Phil Jackson and the New York Knicks to be the next coach of the team for quite some time now. As Kerr's name has been passed around the news wire for multiple coaching positions around the league, the Knicks have been the assumed destination for the former NBA player and general manager as soon as he's ready to step away from the announcing table. We may finally get that coaching deal in place for Kerr this week.
Frank Isola of The New York Daily News is reporting the Knicks and Kerr are inching closer to completing a deal and while they're still negotiating, they hope to have one finished early this week. They'd like Kerr to go to the NBA Draft combine in Chicago, which starts on Thursday, to get going on the reconstruction of the Knicks as a whole.
Steve Kerr is inching closer to finalizing a deal to become the next head coach of the Knicks, according to a source close to the TNT broadcaster.

Kerr's agent, Mike Tannenbaum, is still negotiating with the Knicks but the two sides are optimistic that a deal would be in place early this week. The plan is to have Kerr accompany Knicks president Phil Jackson to Chicago for the NBA Draft combine which begins Thursday.
What that deal could look like is interesting. There were reports earlier this weekend that Kerr was seeking a five-year, $30 million deal right off the bat as a coach, which would be one of the biggest deals in the league. It would also be a historically huge salary number for a coach without any coaching experience. The Knicks don't have a pick in the June draft, but they'll likely try to find their way into at least a second-round pick or two on draft night.
Eventually, the Kerrfuffle will be over and we'll get to start seeing how the Knicks shape their roster and their future with Jackson making decisions and Kerr coaching those decisions on the court. 
Here's how to watch Jimmy Butler and the Wolves take on Blake Griffin and the Clippers

James Harden, Chris Paul take on one of the hottest teams in the Eastern Conference

We've got all the scores, highlights and news from all of Sunday's games
The Rockets beat the Warriors 116-108 on Saturday night

The Cavaliers gave up 148 points in their loss Saturday afternoon to the Thunder

Blatt made the comment before coaching in the All-Star Game in Turkey