Report: Kobe Bryant is jogging on court, taking set shots
Kobe Bryant took the court for the first time -- officially -- since tearing his Achilles. A minor step in his recovery.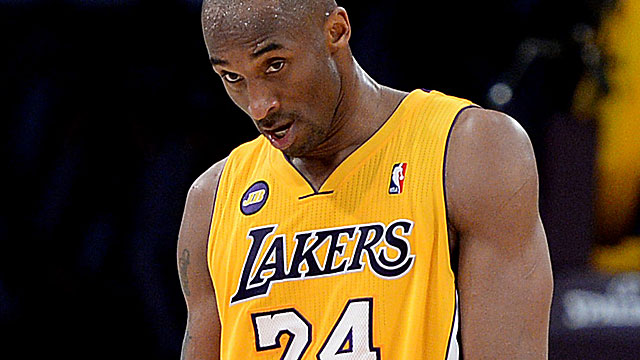 Kobe Bryant is back on the court with the Lakers. 
Sort of. 
After tearing his left Achilles in April, Bryant's not practicing with his teammates -- yet -- but did take the floor to do some light jogging and a little set shooting.
"He just keeps progressing," D'Antoni said, via ESPN LA. "He was out today shooting a little bit and jogging. He just keeps getting better."
Taking the floor to do light jogging obviously isn't a signal Bryant's back by any stretch, but it is a positive step, albeit a minor one. In the rehabilitation process, Kobe is progressing on pace, though the Lakers have resisted giving him a timetable. 
Kobe has been running on a gravity treadmill which alters his body weight, but by jogging on the court, he essentially is running with all his weight on his legs. 
However, with the shooting, Kobe's not taking jumpers, but rather just working on set shots.
"He's going up on his tiptoes," D'Antoni said. "I don't think he was jumping, but it wasn't flatfooted. It was set shooting."
Again, a minor thing, but certainly something positive. In order for Kobe to make his return, he has to check off the small stuff, like jogging on his own and being able to go through the process of shooting. With the season about 30 days away, it's seeming unlikely that Kobe will be ready to tip off the campaign opening night, but by all accounts, he's on track. 
Westbrook's late layup gave the Thunder a 109-108 victory

LeBron became the seventh player in league history to reach the milestone

There were a few things that stood out from Tuesday's All-Star selections
Here are three players from each conference who had legitimate claims to make the game

LeBron achieved the milestone in the first quarter Tuesday

Here are the full lineups for the 2018 NBA All-Star Game