Report: Kobe 'progressing,' but expected to miss all of preseason
Lakers star is making his way back to the court but will miss the entire preseason, putting his regular season debut into further doubt.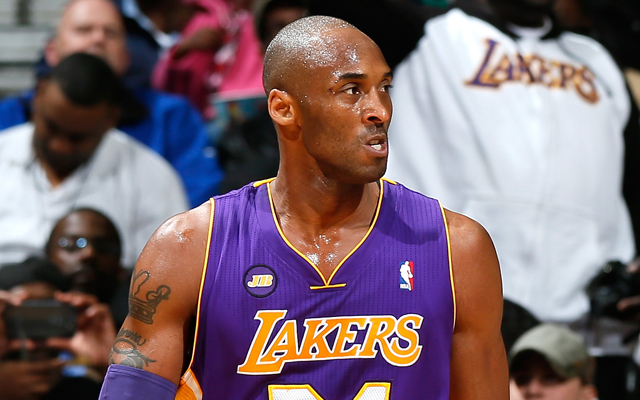 The big question for the Lakers, and one of the biggest questions for next season period, is when Kobe Bryant will return. Bryant has been aggressively rehabbing his torn achilles after surgery last spring in typical Bryant fashion. Kobe has said in recent days that the Achilles tendon feels "really, really good," but also that he's not sure if he'll be ready for the season opener. 
Now the LA Times reports that while Lakers doctors say he's "progressing," the plan is for Bryant to miss all of the preseason, so his absolute earliest return would be opening night, Oct. 29 vs. the Clippers. 
Kobe Bryant continues to move forward in his rehabilitation from a torn Achilles' tendon, though the Lakers are unwilling to put an updated timetable on his exact return.

"He's progressing well and has met all the targets and milestones of his rehab, and we expect him to make a full recovery," Lakers spokesman John Black told The Times on Monday. "One of the key issues is to make sure he builds up strength and endurance not only in his Achilles but also in his legs, knees, back and core."

Bryant's initial timetable called for at least six to nine months of recovery after he was injured April 12 against Golden State. The more optimistic part would put him in play for two Lakers exhibition games in China next month, though Bryant is expected to miss the Lakers' entire eight-game preseason schedule that ends Oct. 25.

The Lakers begin the regular season Oct. 29 against the Clippers. It is unknown if Bryant will be back in time.

"We're going to avoid giving a target return date until he's doing full weight-bearing running and on-court basketball activities, at the earliest," Black said.
via Kobe Bryant 'progressing well' but likely will miss exhibition games - latimes.com. 
Training camp starts in 11 days, preseason in three weeks. That's a tight window for him to get right in. But the fact that he hasn't gone to full weight-bearing activitie or on-court activities means this is getting awfully tight. He has to reach that point just to have a forseeable target date. 
I was adamant that he was going to be back on opening night, but now for the first time, I'm starting to waiver. He has always had this same kind of flow of news with injuries, where it looks right up until the last second like he won't play, and then does, but a. this injury is way ore severe than any he's had before and b. we now have concrete thresholds he's yet to reach. These are the first actual steps that have been outlined for Bryant he's yet to meet and we're pretty late in the game. 
At the same time, opening night or not, Bryant's going to be back by mid-December at the latest. As usual, what is a career-changer for other players is a blip on the radar for Bryant, who will do whatever it takes to get back as soon as possible. As soon as possible may just not be, you know as soon as possible. 
The future of the league was on display on Tuesday night

Check in throughout the night for the latest news and highlights from NBA games

The Lakers legend details why the NBA popularity will continue to rise
SportsLine's Mike McClure, a DFS pro with more than $1M in winnings, gives optimal lineup...

If the Thunder forward doesn't know the reason, he has a very short memory

The 76ers star doesn't see a bright future for Jon Snow