Report: Lakers considering adding point guard; West, House on list
The Lakers are reportedly considering adding a point guard through free agency or trade; Delonte West is the top candidate.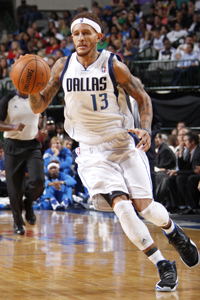 West a Laker?
(Getty Images)
Multiple reports out of LA indicate that the Lakers are considering bringing in help to fix their point guard position which has been decimated by injuries to Steve Nash and Steve Blake. Their targets? Delonte West, Eddie House, Jonny Flynn and Mike James if a trade isn't made. 
So, yeah, this is a great plan. 
West has been a free agent since the Mavericks waived him rather than deal with his disruption after mutliple suspensions in the preseason. House has been off the radar as a free agent since last season, James has been out of the league for quite a while, and Flynn has been playing in Australia. 
And these are the men to solve the Lakers' point guard problems. 
Maybe most concerning is the fact that the Lakers have even reached this point at all. The only calming influence over the past few weeks of despair has been that the chaos will end when the team gets Steve Nash back. If Nash were close to returning, why would the Lakers be considering making a move? And if it's the case that they need to make a longer-term move, is a castaway the best option for a team with this kind of expectations? 
The trade option lingers, and could only serve to exacerbate talks of a potential trade with Toronto. The Raptors want to unload Andrea Bargnani, and have Jose Calderon and his expiring $10 million contract. That would seem to be a better fit. 
But of course, that clashes with the Lakers' wishes to see Pau Gasol's fit with Nash before trading the Spanish big man. So naturally, the Lakers are trying to figure a work-around. And as a result, they only seem more desperate. 
West is a capable player when settled and an inconsistent, emotional mess when not. He carries considerable upside 
The NBA broke its silence with a statement related to the Lakers-Paul George tampering cha...

The Clippers big man thinks LeBron will reunite with the banana boat crew at some point

Have the Clippers reportedly found their next GM?
The NBA stayed to the point in their response to the Greek basketball federation

The Pacers believe the Lakers tampered with Paul George before they traded him

Among the questionable decisions by Jackson was signing Noah to a long-term, lucrative dea...