Report: Lakers considering Byron Scott, Alvin Gentry, Kurt Rambis
Los Angeles is reportedly focused on three 'primary candidates' for its head-coaching vacancy.
• 1 min read
More Offseason Analysis: Coaching changes, news | Free Agency | Draft
The Los Angeles Lakers are focused on three "primary candidates" for their head-coaching position, according to Bleacher Report's Howard Beck: Byron Scott, Alvin Gentry and Kurt Rambis.
All three have interviewed with the Lakers, as have Mike Dunleavy and Lionel Hollins. Scott had a second interview on Tuesday, according to ESPN's Chris Broussard. George Karl had "informal discussions" with Los Angeles general manager Mitch Kupchak, according to ESPN's Dave McMenamin, who also reported that the Lakers gave the New York Knicks permission to interview Rambis, a current assistant coach, about joining Derek Fisher's staff.
It's a search that continues to move at a snail's pace. The Lakers currently have no more interviews scheduled for this week; however, Scott Skiles (former coach of Milwaukee, Chicago and Phoenix) remains on the short list, according to Marc Stein and Ramona Shelburne of ESPN.com. James Worthy, a former Lakers great and current Lakers television analyst on Time Warner Cable SportsNet, suggested to ESPNLosAngeles.com last month that the Lakers take a look at Indiana Pacers assistant coach Nate McMillan as well. 

Tom Thibodeau, another name ESPNLosAngeles.com reported was once being mulled by the Lakers, is no longer considered a viable candidate. The Lakers realize that getting Thibodeau out of his contract with the Chicago Bulls would require trading their No. 7 pick in this year's draft, and L.A. deems that too steep a price to pay. 
Scott and Rambis have history with the franchise from the Showtime days, and Rambis has had several stints in Los Angeles as an assistant. Gentry does not have that connection, but he's had more success as a head coach at the NBA level, most recently with the Phoenix Suns.
Unlike some of the other coaching searches this year, it's hard to get a read on what the Lakers are after, or what their timeline is. It certainly doesn't look like they're in a hurry, but Kupchak surprised everyone before when news dropped about Mike Brown and Mike D'Antoni.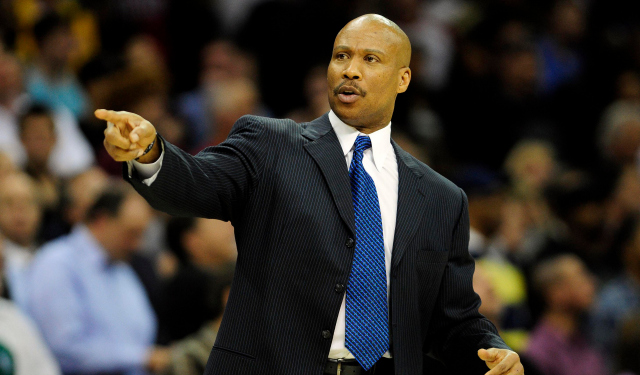 Hayward is expected to make a full recovery, but don't expect to see him on the court this...

Well, Suns fans ... it can only go up from here

Teague no longer plays the game, however, because he's mad about his rating
Our NBA scribes break down what we've learned from the first two nights

Imagine if the Orlando rookie ripped off his warmups and stepped on to the court topless

After Brett Brown said his star would likely play somewhere in the teens, Embiid logged 26...