Report: Lakers interested in Monroe, Lowry, Ariza, Frye
If Los Angeles can't land LeBron James or Carmelo Anthony, it will reportedly turn its attention to several other free agents.
• 2 min read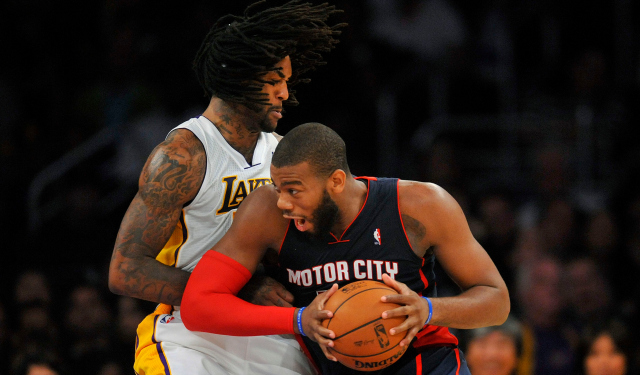 More Offseason Analysis: Coaching changes, news | Free Agency | Draft
The Los Angeles Lakers have tons of cap room, and will chase LeBron James and Carmelo Anthony, but if unsuccessful they will reportedly turn their efforts toward numerous other free agents. They have a "strong interest" in Greg Monroe, Kyle Lowry, Trevor Ariza and Channing Frye, according to ESPN's Ramona Shelburne.
Monroe would be quite an acquisition, as the Detroit Pistons big man is only 24 years old has extraordinary gifts on the offensive end. Kobe Bryant is one of Pau Gasol's biggest supporters, and Monroe would be sort of like a younger version of him. He's a restricted free agent, though, and Detroit president and head coach Stan Van Gundy doesn't intend to lose him for nothing. It might be difficult to pull this off, as Monroe will surely have other suitors and neither his game nor his personality screams Hollywood. 
Los Angeles is in a position to offer Kyle Lowry a huge contract, but the point guard said recently that he wants to play for a championship. Joining Bryant, he'd also have to relinquish the status of No. 1 playmaker that he enjoyed with the Toronto Raptors last season. At 28 years old, he still has plenty of good years ahead of him, but with how far the Lakers are from competing in the Western Conference, they might be better off going younger and he might be better off elsewhere.
Ariza and Frye both have value as high-level role players. The former had a great run in Los Angeles in a contract season in 2008-2009, but wasn't the same after that ... until this past year, also a contract season. He's 29 and could provide some needed two-way production, but the Washington Wizards want him back and he might not be worth what the Lakers would have to pay him. At 31, Frye is also in a position to command a big salary, after proving his worth as a floor-stretcher for the Phoenix Suns last season. He is a deadeye shooter and can defend the post, which is a rare combination.
The question for the Lakers is how soon they see themselves contending. Bryant isn't likely to be patient, and he knows exactly how much cap space they have. The team needs to avoid signing players to long-term deals that could ensure mediocrity after their superstar retires, though. Addressing the future and the present simultaneously will be a tricky task for general manager Mitch Kupchak this summer.
A dive into the NBA history books for every result from every NBA All-Star Game

James set the tone during practice that this year's All-Star game was going to be differen...

The 76ers center handled 'mismatches' like they were nothing
LeBron James says he will continue his social activism no matter what people say about him

The 76ers guard is in hot water after a controversial video surfaced showing him using a racial...

LeBron James earned his third career All-Star Game MVP award