Report: Lakers not working to trade Pau Gasol ... yet
The Lakers are reportedly waiting to see how Pau Gasol meshes with Steve Nash before considering trading the talented power forward.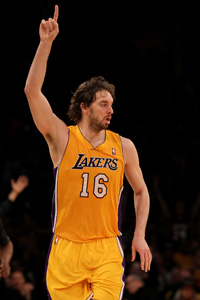 Gasol isn't on the trade block, yet. (Getty Images)
The trick is that sometimes when a report leaks that a player isn't being traded, it does more harm than good, because it asserts that the possibility exists. And in the case of a report regarding the Lakers and Pau Gasol, the more important part is that the Lakers aren't actively trying to trade Gasol -- yet. 
The Lakers aren't actively looking to trade Gasol right now, The Times has learned, because they want to see what happens when Nash returns from a small fracture in his leg.

After that, there are two important dates: Dec. 15 is when teams can deal players they signed during the off-season, opening up about 20% more of the NBA's player pool; and Feb. 21, the league's trade deadline.
(via Lakers power forward Pau Gasol has a lot to deal with - latimes.com)
That "right now" is kind of a big deal. Meanwhile, Gasol spends most of the article complaining about how the Triangle Offense is gone with Phil Jackson. It was the best system for him and made him feel comfortable, loved and valued. Gasol was reserved in his comments when D'Antoni was hired, openly lamenting the decision to not hire Jackson again. 
But that's over. 
D'Antoni provides him with a wide-open system that wants versatility and skill in its big men. That fits Gasol perfectly. Overall, Gasol comes across as if he just doesn't want to run. 
And that's a shame. 
So the Lakers will keep Gasol on the same trade block he's been on for two seasons. If he doesn't turn around his game, and his attitude, he's going to lose the thing he's valued more than anything the past four years, his ZIP code. 
Gasol's been battling knee tendinitis in what is another pearl on a long string of problems for him this season. 
Wade opted in to his $24 million player option earlier this summer

Barkley spoke to the NFL Today crew about the response the president received in his home...

The restricted free agent has a deal in place that will keep him with the Bulls after a st...
James' support continues his trend of social activism on social media

The newly-acquired All-Star thinks the addition of Anthony boosts the Thunder in the NBA's...

The Knicks were asking for the house in discussions for Carmelo Anthony