Report: Lakers organization does not believe it can land LeBron
The Lakers don't have confidence they can sign LeBron James as a free agent, according to a report.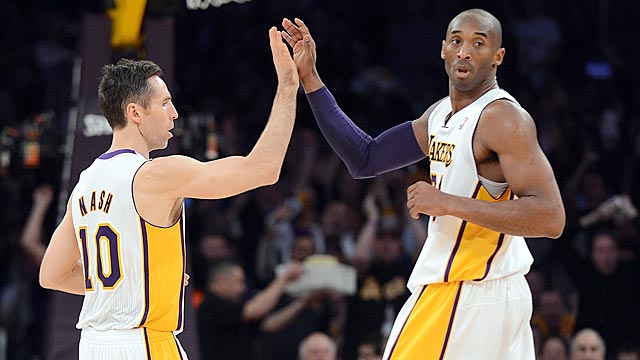 In a wide-ranging piece on the future of the Lakers and their hopes for free agency in 2014, with a class featuring LeBron James and Carmelo Anthony among others, ESPN reports on indications from within the Lakers organization that things are bleak: 
And let's be honest, for all the excitement about the 2014 draft, in terms of likely impact, it's nothing compared to what the 2014 free-agent class could become. Need I remind you LeBron James can opt out of his contract, as can Chris Bosh and almost every single member of the Miami Heat? Carmelo Anthony could be on the market, along with Tim Duncan and Dirk Nowitzki. The year after that names like Kevin Durant and Paul George become realities.

So ... why all the long faces, Lakers front-office executives?

Why did a source close to Lakers management tell ESPN.com: "Within the organization there isn't a single person that believes we can bring LeBron aboard"?

Why was GM Mitch Kupchak on Colin Cowherd's radio show in the last few weeks saying "I don't know if we'll get a star player?"
via The Lakers won't win free agency - TrueHoop Blog - ESPN.
The piece goes on to outline reasons why the Lakers will struggle including the new CBA's salary cap implications and Kobe Bryant's attitude towards teammates. 
The question usually comes down to "The Lakers' storied history" vs. "modern forces reshaping the league." 
The answer may lie somewhere in the middle. The history of the Lakers may not have as much of an impact going forward, after Dwight Howard set a precedent for leaving the organization and the admittedly difficult nature of Bryant. But there's still the fact that living in LA will nearly always be attractive to players on multiple levels. The weather's great, the city's fun if you have money like they do, and there are party and sponsorship opportunities that don't exist elsewhere. LA will always have a built-in advantage. 
The Kobe concerns are temporary, as well. Bryant has two, three, maybe four years left at the absolute max. There will be a Lakers future and some star will want that. Whether it will be LeBron James, Carmelo Anthony, or someone else, we'll have to wait to see. The bar has gotten higher for the Lakers. It's not as easy as it used to be. But even if they're down now, I wouldn't bet on them being down very long. Natural, inherent advantages aren't eliminated without cataclysm. The Lakers had a rough year, but not enough to change the entire NBA ecosystem. 
Anthony said this week he plans to stay in New York, while LeBron is playing it safe, as usual. 
SportsLine's Mike McClure, a DFS pro with more than $1M in winnings, gives optimal lineup...

Leonard was recently shut down again to rehab the nagging quad injury

Ellington is averaging a career high 11.2 points, and shooting 41 percent from 3-point lan...
Multiple players said the meeting did not go well

The Cavaliers, you might have heard, are slipping

Here's how to watch Jimmy Butler and the Wolves take on Blake Griffin and the Clippers