Report: Lakers team meeting does not go well; Kobe and Howard clash
The Lakers held a team meeting before Wednesday night's game at Memphis, and Kobe and Howard clashed.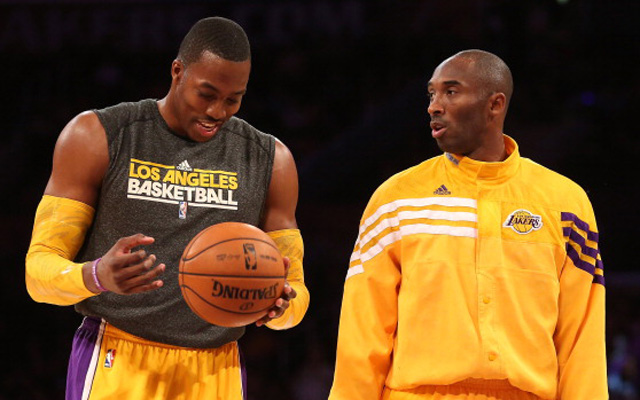 Not good times.
(Getty Images)
In an attempt to get out of their funk, which you might recognize better as "their entire season," the Lakers held a team meeting on Wednesday before their game at Memphis to try to "clear the air," ESPN reports. It didn't go well. In particular, there is a strong and significant conflict between Kobe Bryant and Dwight Howard. 
I know. You're shocked. Me, too. From ESPN: 
Several players spoke up, including Steve Nash and Kobe Bryant, the 17-year veterans who make up the Lakers' backcourt. Bryant asked Dwight Howard if he was bothered by playing alongside him, according to the Los Angeles Times, which first reported the meeting.

"I hope it is (a positive thing)," D'Antoni told reporters before the game. "That's the purpose of just trying to move forward, and hopefully it is. We'll see. We're in a rut right now, so the time to stand up, draw a line in the sand would be now."

Bryant acknowledged he could be "hard to play with," according to the Times, and challenged Howard to speak up if he had a problem with it.

Howard was "despondent" and did not offer much of a reply to Bryant, according to a team source.
via Los Angeles Lakers hold team meeting to air grievances - ESPN Los Angeles.
So a five-time NBA champion, former MVP and the second-greatest shooting guard and Laker of all time challenges you to stand up and voice your opinion ... and you don't say much.
There's a growing sentiment in media circles and slowly leaking out the sides of the Lakers' organization that the problem with chemistry, the problem with attitude, the problem with effort is Howard. For all of Pau Gasol's struggles, at least Gasol has been asked to repeatedly adjust to things that aren't what he asked for. Howard asked for this. He wanted out of Orlando and wanted onto a superteam in a big market. 
He got it. And all the responsibility that comes with it. 
The report also states that Howard recently was complaining on the bench about his shots, a teammate brought Bryant over, and Howard wouldn't admit his complaints to Bryant. Which does not paint Howard in a very good light. 
The Lakers went on to get stomped by the Grizzlies on Wednesday night 106-93. They are eight games under .500.
And the water keeps rising. 
Beverley handcuffed Lonzo on the court, and the emotion carried into the locker room

Ball's eagerly awaited first NBA game didn't go the way Laker fans hoped

Griffin can still hand out posters with the best of them
The Knicks forward is a bucket-getter in the truest sense of the term

On the TNT broadcast, even Shaq finally admitted that he likes Joel Embiid's game

The Warriors new Nike classic uniforms will be revealed Thursday