Report: Lakers to interview Dunleavy and D'Antoni in case Jackson turns them down
What names are at the top of the list if Phil Jackson turns down the Lakers? Two Mikes -- D'Antoni and Dunleavy.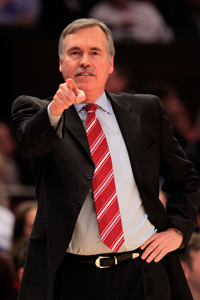 Mike D'Antoni could be getting a call from the Lakers soon.
(Getty Images)
At this point it seems hard to picture any outcome other than Phil Jackson putting down the peyote pipe and returning to the Lakers bench.
But what if Jackson turns down the Lakers? While everything coming out of Los Angeles points to Jackson's return, there are still hangups such as his contract, travel and still some questions about his health.
So if it's not Jackson, the Lakers are planning for a contingency that includes Mike D'Antoni and Mike Dunleavy, according to USA Today.
The Lakers are playing a waiting game with Phil Jackson, who interviewed for his old job on Saturday and is still trying to decide if he wants to get back into coaching.

Two people involved in the search for Mike Brown's replacement confirmed to USA TODAY Sports that the team will also interview Mike D'Antoni, former coach with the Phoenix Suns and New York Knicks, and former Lakers coach Mike Dunleavy. Jackson is still considered the overwhelming favorite to return, but the Lakers are doing their due diligence in case he decides against it.
Dunleavy has a history with the Lakers, leading them to the Finals in 1991, losing to the Bulls in five games. He then left the Lakers for the Bucks in 1992. He has 17 years of NBA coaching experience with stops with the Lakers, Bucks, Trail Blazers and Clippers.
D'Antoni most recently coached the Knicks last season before being relieved of those duties. He has a history with Lakers point guard Steve Nash as the two jelled beautifully in Phoenix to have one of the top offenses in NBA history. Kobe Bryant also has a solid relationship with D'Antoni as the two have worked together as part of Team USA.
Another name that has bounced around a bit is Jerry Sloan, but according to ESPN.com the former Jazz coach says he has not been contacted by the Lakers, nor does he expect to be.
But the ball is in Jackson's court. He holds the cards and the dominos will fall in place depending on his decision.
Along with the Thunder, those were the three teams most involved in the Anthony trade talk...

LeBron said he was frustrated by the President's recent actions

A look at the various actors and elements in the latest sensational blockbuster trade in the...
Blockbuster deal doesn't change the Thunder's projected finish in the West

The Thunder strike again this offseason, and Knicks, entering a new chapter, also make out...

The Warriors have responded to the White House rescinding their invitation