Report: Lakers to use amnesty provision on Metta World Peace
The Lakers will reportedly amnesty Metta World Peace.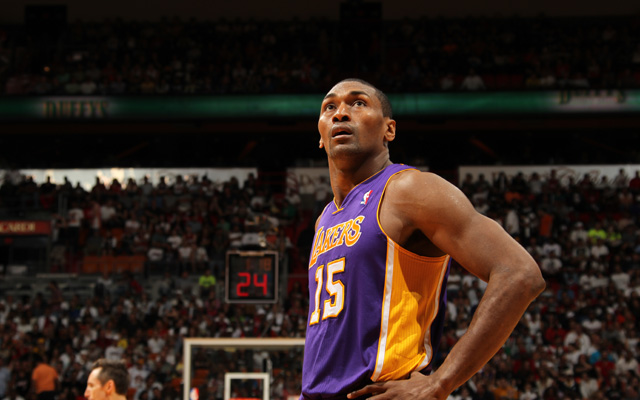 The Orange County Register reports that the Lakers will use their amnesty provision on forward Metta World Peace. World Peace is owed $7.7 million next season on an expiring contract for the 33-year-old. 
MWP averaged 12 points, five rebounds, and two steals last season for LA, and until late in the season was one of the few major players on the team to be enjoying a good year. Then a late leg injury ended his season. Before the wrecked season, World Peace stated the Lakers would go 73-9, beating the best regular-season record in NBA history. 
The move means the Lakers will not use the provision on Pau Gasol. So you'd think that, along with reports the Lakers intend to keep Gasol, he'll remain a Laker next seaason. 
But on the other hand... 
Here's the problem: With the amnesty of Metta World Peace and the signing of Chris Kaman, the Lakers are sending mixed signals as to whether they are tanking or not. World Peace had exercised a player option to try to return to the team next season. 
Even at age 33 and with his ... eccentricities, World Peace should have no problem finding another team with his strength and skill set.
Butler didn't put any pressure on his right leg as he was helped to the locker room on Fri...

We've got all the scores, top plays and news from a busy NBA Friday

Our advanced computer model simulated Saturday's Magic vs. 76ers game 10,000 times
Several playoff contenders could use the services of Ilyasova, who's nearing a buyout agre...

Durant says he probably wouldn't have gone to college because he 'needed the money'

Ball, who has missed the last 15 games with a sprained MCL, will be on a minutes restricti...