Report: Lakers to waive Kendall Marshall, may bring him back after
The Los Angeles Lakers will reportedly waive Kendall Marshall, but are interested in bringing him back after he becomes a free agent.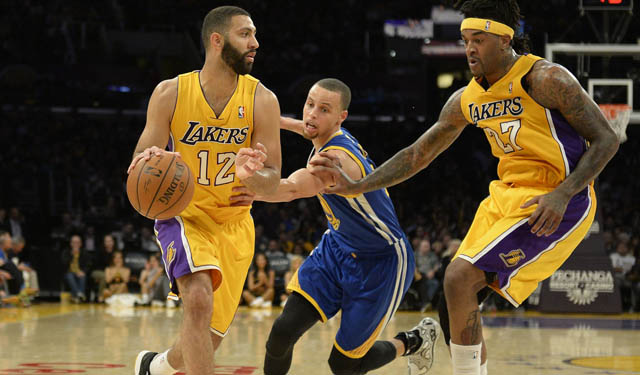 More Offseason Analysis: Coaching changes, news | Free Agency | Draft
The Los Angeles Lakers went into this offseason hoping to get some big names in free agency or trades to turn around what ended up being the worst season in the Los Angeles era for their franchise. Instead, they've had to plug in roster spots that will sort of make them competitive while still maintaining enough flexibility to make a big splash in future offseasons. While the Lakers wrap up filling out their roster for next season, they still have to circumvent the salary cap in weird ways to complete the moves they want to make.
According to Adrian Wojnarowski of Yahoo Sports, one of those moves is going to be waiving Kendall Marshall and then bringing him back if he clears waivers. The Lakers need the flexibility that will come with waiving Marshall's non-guaranteed deal to complete a couple moves.
Lakers waiving guard Kendall Marshall, but have interest in bringing him back on a new deal if he clears waivers, league sources tell Yahoo.

— Adrian Wojnarowski (@WojYahooNBA) July 18, 2014
The Lakers traded for Jeremy Lin and his $8.3 million slated for the salary cap this season. They've also re-signed Nick Young on a four-year deal, re-signed Jordan Hill for big money, and recently claimed Carlos Boozer off amnesty waivers, which has used up their available cap space. With the hopes of re-signing Ryan Kelly and actually needing the cap space to complete Young's signing, Marshall's money became expendable. 
Marshall was making the minimum for the Lakers. He joined the team in December of last season, and was able to put up numbers in Mike D'Antoni's system on a Lakers team that won 27 games. He averaged 8.0 points and 8.8 assists in 29.0 minutes. He played in 54 games for the Lakers, starting 45 of them. 
The investigation detailed a hostile workplace environment

Cousins suffered a torn Achilles tendon on Jan. 26, and will miss the rest of the season

Ingram has become one of the team's go-to players with Lonzo Ball sidelined with an injury
Giannis skipped EuroBasket last summer, and has missed four games this season with knee so...

Some of the best and worst from the league as we head into the home stretch of the season

Cuban acknowledged that tanking is 'brutal' and that he will no longer do that after this...