Report: Lakers, Wes Johnson agree to one-year minimum deal
The Los Angeles Lakers and Wes Johnson have reportedly agreed to a one-year deal for the veteran's minimum as the Lakers try to add cheap depth.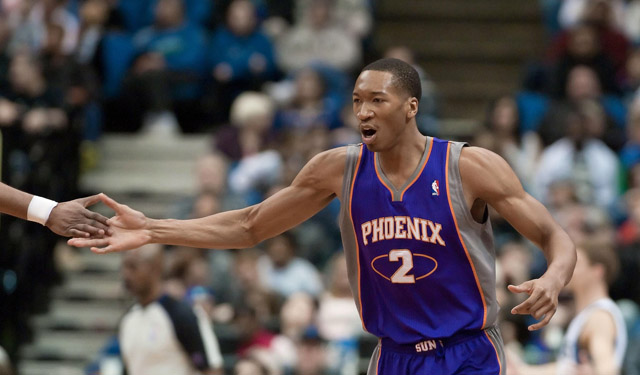 When the Los Angeles Lakers lost out on re-signing Dwight Howard, they immediately went into cost-cutting mode to avoid severe luxury tax penalties and maintain flexibility as they look for the next era for the franchise. Maximizing salary cap room for the 2014 and 2015 summers appears to be the goal, so you won't see the Lakers taking on any long-term deals past the 2013-14 season unless it's a no-brainer that a player would be a cornerstone for their future.
With that in mind, it looks like the Lakers have found a little bit of much-needed wing depth. Mike Bresnahan of the Los Angeles Times is reporting that the Lakers have agreed to a one-year minimum deal with small forward Wesley Johnson, formerly of the Phoenix Suns and Minnesota Timberwolves. 
Lakers agreed to terms with SG Wesley Johnson...1-yr deal for vet's min of $1 mill. Was 4th pick in 2010 draft, played last season for PHX.

— Mike Bresnahan (@Mike_Bresnahan) July 14, 2013
The Lakers amnestied Metta World Peace this past week, opening up a hole on the perimeter for someone who can knock down open 3-pointers and play some solid defense. Johnson can sort of do some of that. Johnson has never shot over 35.6 percent (rookie season) from 3-point range, and he was well under the league average at 31.4 percent and 32.3 percent the last two years, respectively. 
Johnson was a solid defender in his two years with the Wolves, but it was never enough to make him a definite part of their future after they realized they may need to sell as high as they possibly can two years after he was taken fourth in the 2010 draft. He shouldn't be considered a lockdown defender by any means, and he doesn't give you a lot of offensive options with his inability to create off the dribble. He also doesn't get to the free-throw line, attempting just 161 free throws in 194 career games.
Kyrie Irving created a movement -- but even he had no way of knowing the damage he could d...

Parsons, a Magic fan growing up, says his situation in Memphis with the injuries and big contract...

The Kings' big man says he was wrongfully arrested in August for possessing marijuana with...
George appeared to show some frustration with the Pacers following the trade to OKC

It's worth wondering whether or not Wade will be in the Cavs' starting lineup

Nurkic is confident Portland will be a tough team to beat, and says it must begin on defen...