Report: Lakers will interview Alvin Gentry
Alvin Gentry is reportedly a candidate to replace Mike D'Antoni in Los Angeles.
• 1 min read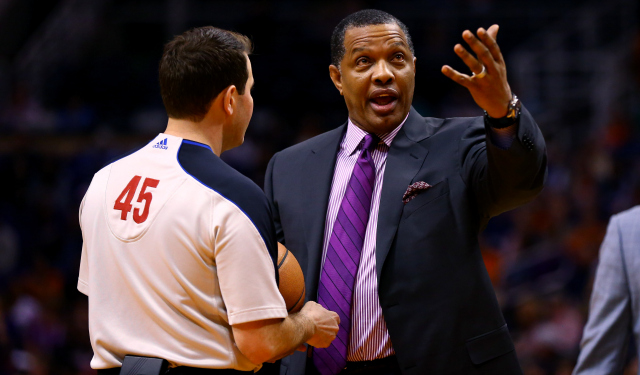 More Offseason Analysis: Coaching changes, news | Free Agency | Draft
The Los Angeles Lakers will interview Alvin Gentry in person on Wednesday after he spoke to general manager Mitch Kupchak by phone last Friday, according to Broderick Turner of the Los Angeles Times. Gentry, who served as an assistant under Mike D'Antoni with the Phoenix Suns, reportedly has become a more viable candidate to replace D'Antoni in Los Angeles after other coaches and execs "raved" about his approach to offense. 
A current assistant for Doc Rivers with the Los Angeles Clippers, Gentry has also been linked to the Cleveland Cavaliers, Utah Jazz and Memphis Grizzlies. While the Grizzlies ended up sticking with Dave Joerger, the Cavaliers will interview Gentry on Friday and the Jazz met with him last week, according to the Times report. The Golden State Warriors and Sacramento Kings are interested in poaching him as a lead assistant, according to NBA.com's David Aldridge. 
Gentry was fired as the head coach of the Suns in the middle of the 2012-2013 season, with things having gone steadily downhill after he led the team to the Western Conference Finals in 2009-2010. Management had much more to do with that decline than coaching, however. 
The Lakers, Cavaliers and Jazz have all indicated they will be deliberate in their coaching searches, but things could speed up if one of the teams decides to make Gentry an offer. 
Nerlens Noel is now being represented by Rich Paul of Klutch Sports

Steve Kerr opens up about his back issues and more

OJ Mayo, banned from the NBA for positive drug test, is considering playing overseas
The King? 'LeBron, it turns out, is Aquaman,' or so the account via Dwyane Wade's wife goe...

From Penny to Thunder Dan to Pistol Pete to Agent Zero, guys who would be better in 2017

Griffin said recently he thinks it's more likely that LeBron James goes to New York than L...