Report: Lakers won't consider firing D'Antoni
D'Antoni won't be fired, which is kind of too bad for all sides, given how this has gone.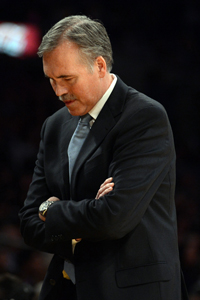 D'Antoni's job safe. 
(Getty Images)
Mike D'Antoni is Lakers fans' public enemy No. 1. And though that the All-Star-studded team was a massive pile of failure before he took over, D'Antoni is widely being made the icon of L.A.'s inability to get its collective head out of its behind.
Fans attribute the defensive problems almost entirely to D'Antoni and his reputation for not spending enough focus on defensive schemes. Somehow, he's at fault for Pau Gasol pretty much being mediocre to terrible for two years. 
D'Antoni hasn't coached well, to be certain. He's lost the veterans that he badly needs to buy in, and his style simply hasn't clicked with the players on the roster. Leandro Barbosa isn't walking through that door. And if he did, it wouldn't matter, anyway. In a straw poll that I put on Twitter the other night (Twitter always being the most well-reasoned group to draw responses from), fans by and large said they hated D'Antoni significantly more than any coach in Laker history, including Mike Brown. 
But according to a report in the Orange County Register, they had better get used to it, because he's not going anywhere. 
There's plenty of heat and speculation -- and plenty for Mike D'Antoni to hash out as far as better utilizing his players, including 2013 free agent Dwight Howard -- but I was told Thursday the Lakers are not considering a buyout or firing of D'Antoni as head coach.
via Lakers not considering dismissing Mike D'Antoni - Lakers blog : the Orange County Register.
Cue joke about how the Lakers will announce his firing within 24 hours. After all, management came out in support of Brown less than a week before he was let go. 
But the Lakers would wind up being on the hook for $25 million in fired coaching salaries, before whatever they paid the guy who would replace D'Antoni. Were that to be, oh, I don't know, pick a name, Phil Jackson, they'd wind up paying half as much as their player salaries cost this season on coaching fees over the next few years. Not even the Lakers are that rich. They're almost that rich. They're very close to being that rich. But no matter their profit margin from their television deal, that just doesn't make sense. 
So the discord will continue. But given D'Antoni's struggles to not only garner wins but to reach his star players and get them to buy into his system that produced one of the top offensive teams of all time, you have to wonder, if despite all the money, if D'Antoni wishes he'd waited a little longer to clear his head of the painkillers that he was taking following knee surgery when he signed on for this disaster. 
The Lakers are eight games under .500 headed into Friday night vs. Utah, and the water continues to rise. 
Boucek most recently was head coach of the Seattle Storm in the WNBA

The Rockets apparently aren't going to rush their new point guard back

The Bucks are going all in on retro with their jerseys and court design
Mike McClure, a DFS pro with more than $1M in winnings, gives optimal DraftKings and FanDuel...

LaVar's son couldn't live up to LaVar's hype. But there's more to this story

Carmelo Anthony is hoping for Kristaps Porzingis to see success on his own