Report: Lakers work out Michael Beasley, considering signing him
Signing Michael Beasley might be the next move in Los Angeles' wacky offseason.
• 2 min read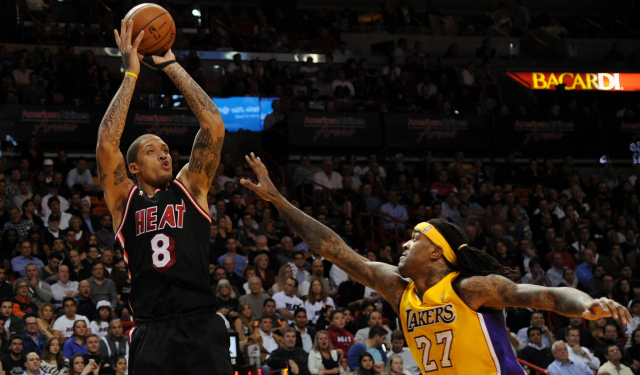 Offseason: Free Agency | Latest from Ken Berger | Rumors
The Los Angeles Lakers are trying to rise back to relevance, and new head coach Byron Scott is preaching tough, defense-first basketball in contrast to the laissez-faire approach favored by the departed Mike D'Antoni. They have a couple of empty roster spots left, and you would think they would want to fill them with stoppers or bangers, right? 
Well, maybe not. They've just brought in Michael Beasley for a workout at their practice facility and are considering signing him, according to ESPN's Dave McMenamin.
"[Beasley] looked very good and he has been working out," one source said. "A tiny rust from layoff, but [he] did a good job."

…

This isn't the first time the Lakers have expressed interest in the 6-foot-10, 235-pound small forward. The Lakers attempted to trade for Beasley twice during the 2011-12 season, when he played for the Timberwolves, but both deals fell through, the second just minutes before the trade deadline expired.
The free agent had an inconsistent role last season for the Miami Heat, but it was actually far and away the most efficient basketball he'd played in his career. Beasley averaged 7.9 points and 3.1 rebounds in 15 minutes per game, shooting 50 percent from the field and 39 percent from the three-point line in 55 appearances.
He wasn't a part of Miami's playoff rotation, however, and he still has some work to do to repair his reputation. When people think of Beasley, they think of immaturity and lackadaisical defense.
On a conference call on Wednesday, Heat president Pat Riley said Beasley is "still a consideration" for their roster and he had been in contact with his representatives, per the Miami Herald. Even with LeBron James leaving town, the signings of Luol Deng, Josh McRoberts and Danny Granger mean that Beasley would have to fight for minutes there.
In Los Angeles, despite the lack of overall talent, he still likely wouldn't be guaranteed significant playing time. Carlos Boozer, Julius Randle, Jordan Hill, Ed Davis and Ryan Kelly should all get some minutes at power forward, so Beasley would probably have to define himself as a small forward and try to take minutes away from Wesley Johnson. 
I, for one, am rooting for this to happen, for the simple fact there's a chance that Beasley, Nick Young and Kobe Bryant could share the floor. Think of all the jumpers. Think of Byron Scott stressing on the sideline, think of Kobe's disapproving face!
In all seriousness, the Lakers are in a position to take chances on guys with talent and hope they put it together. Beasley fits that bill. If he can be as efficient as he was last year with more playing time, and if he can play enough defense that Scott is comfortable putting him on the floor, then it could work out. It's just a weird fit based on what this team needs and how the coach has said he wants to play.
Thomas took to Twitter to let the Celtics know he doesn't want to ruin Pierce's night

The Hall of Famer's jersey was retired by the Celtics in 1982

It's rare to see a legit punch in an NBA fight, but this was definitely one of them
The former Slam Dunk Contest champion will take his talents to Tri-State

Do NBA players have look-a-likes from famous paintings? We found out on the new Arts & Culture...

Larry Hartstein is on quite a run in picks involving the Suns and the Trail Blazers