Report: Lakers would consider drafting Embiid at No. 7
Despite injury expected to keep him out 4-6 months, the Lakeshow would be open to taking the former consensus No. 1 pick.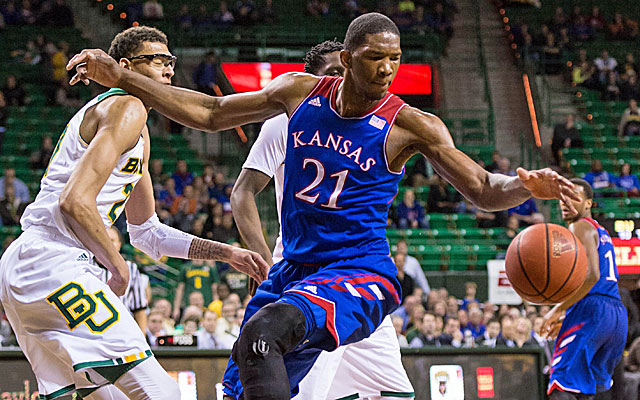 More Draft: Mock drafts | Draft news
The LA Daily News reports that the Lakers "would consider" drafting center Joel Embiid following his foot surgery Friday morning if they are given information on his surgery and prognosis to ease fears about his long-term health. 
The Lakers would consider selecting Embiid should he become available, according to a person familiar with the Lakers' thinking. But such an idea would hinge on Embiid's recovery.

The Lakers are mindful there would be risk in selecting Embiid considering his recent back injury and his current foot fracture. But they are also aware of Embiid's upside with various draft experts likening him to Hall of Famer center Hakeem Olajuwon. It is unclear what information in Embiid's medical report and progress the Lakers would need to see that would make them feel comfortable picking Embiid assuming he stays undrafted before the seventh pick.
via NBA Draft: Lakers would consider selecting Joel Embiid if available | Inside the Lakers.
And the Lakers will definitely get that information. Word has already leaked that Embiid's agent, Arn Tellem, would like him to go to the Celtics or Lakers if he's not No. 1. The Lakers will get any information they want as long as Tellem thinks it will assuage their fears. 
The Lakers of course have familiarity with talented big men with injury issues, having nursed Andrew Bynum into a capable basketball player before his physical and professional implosion over the past two years. They also have a lot of faith in their training staff lead by Gary Vitti, despite a plague of injuries in the past two years to nearly all of their players. 
And really, wouldn't the No. 1 talent in the draft falling to the Lakers be the most Lakers thing you can imagine?
Miami is on Irving's list, but this package still wouldn't be enough to get a deal done

Some teams want to fight the Warriors, others want to 'fight' for the right to draft Michael...

Oklahoma City has reportedly offered the MVP a five-year extension worth over $200 million
The big man was a big part of the Warriors' championship run last season

The Cavs jokes were out in full force after Golden State reportedly agreed to sign Antonius...

New York seems to be at the top of Irving's list of preferred destinations