Report: Lance Stephenson could be Plan B for Dallas Mavericks
The Dallas Mavericks will reportedly look to sign Lance Stephenson if they miss out on Chandler Parsons due to the Rockets matching the offer sheet.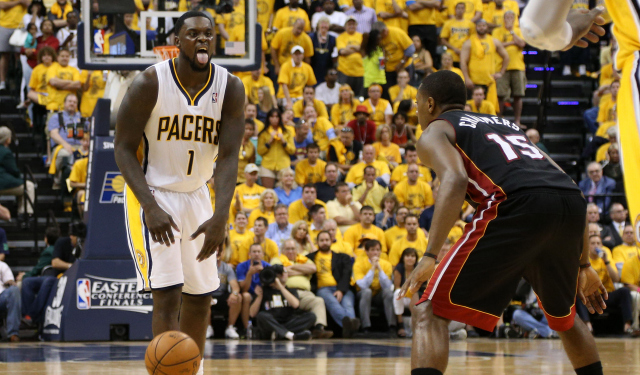 More Offseason Analysis: Coaching changes, news | Free Agency | Draft
The Dallas Mavericks are hoping the Houston Rockets don't match their three-year, $46 million offer sheet to Chandler Parsons because they'd love to add him next to Dirk Nowitzki. If the Rockets do manage to retain Parsons' services, the Mavericks will look for more wing help on the free agent market. With Lance Stephenson still out there, it looks like he'd become the target of the Mavericks' front office. 
Tim MacMahon of ESPN Dallas is reporting that Stephenson is on the list of Mavericks' targets, should the Rockets match the offer sheet and force Parsons to return to their roster. He's one of the best free agents left on the market, along with Luol Deng and Trevor Ariza. He turned down a five-year, $44 million offer from the Indiana Pacers already.
Add Lance Stephenson to the list of the Mavericks' targets if the Houston Rockets exercise their right to match the three-year, $46 million offer sheet to Chandler Parsons. 

Stephenson, who was considered toxic by the Mavs due to his character issues a couple of months ago, is somewhere on the top tier with Trevor Ariza and Luol Deng, a source told ESPNDallas.com. There is not a consensus opinion among the Dallas decision-makers about the rankings of those three unrestricted free agents. 
Stephenson is an interesting case in free agency. He had a career year in a contract season, and looked to make a lot of money this offseason. Then his antics during the Eastern Conference finals seemed to show the immaturity people were worried about with him, which can overshadow his talent and production on the floor. Stephenson will still receive a healthy contract, especially after Avery Bradley signed for $8 million per season and Jodie Meeks got $19 million over three years.
The shooting guard position in the NBA is shallow in depth, so a premium can be put on what Stephenson brings to the table. He can also play either wing position and is a triple-double threat most nights. It just comes down to is he worth what he believes he should get and is he worth the potential headache if he's distracting from what the team is doing on the court. Likely, the answer to both of those questions is yes.
Cousins suffered a torn Achilles tendon on Jan. 26, and will miss the rest of the season

Ingram has become one of the team's go-to players with Lonzo Ball sidelined with an injury

Giannis skipped EuroBasket last summer, and has missed four games this season with knee so...
Some of the best and worst from the league as we head into the home stretch of the season

Cuban acknowledged that tanking is 'brutal' and that he will no longer do that after this...

Cho has been the GM in Charlotte since 2011