Report: Lawrence Frank retaining legal counsel to work on Nets buyout
The Brooklyn Nets have re-assigned assistant coach Lawrence Frank away from the sidelines but he's reportedly getting legal counsel to work on a buyout.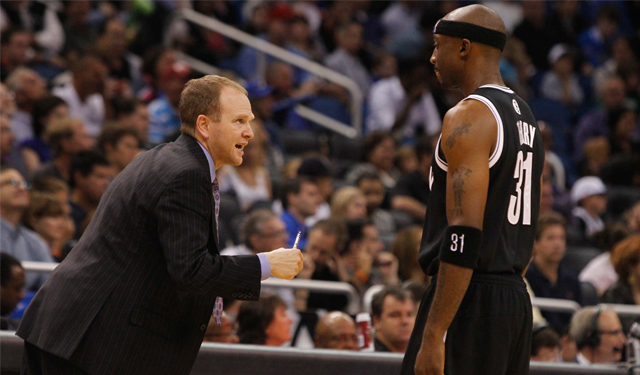 The Lawrence Frank re-assignment news came out of nowhere yesterday when Jason Kidd announced the lead assistant on his staff would no longer be on the sidelines during Brooklyn Nets games. Instead he was going to submit daily reports, despite being the highest paid assistant coach in the NBA at $6 million over six years. This re-assignment probably isn't going to last long though.
Tim Bontemps of the New York Post is reporting that Lawrence Frank is retaining "high-powered legal counsel" in an effort to most likely work on a buyout with the organization. Instead of finding ways to contribute away from the coaching staff during games and practices, Frank presumably just wants to get on with his career and find his next home.
Nets assistant coach Lawrence Frank is in the process of retaining "high-powered" legal counsel, presumably to settle a buyout with the franchise in the wake of being "re-assigned" by head coach Jason Kidd, a league source told The Post.

When the Nets hired Frank — a former head coach with the Nets, whom Kidd had publicly pursued to be one of his assistants after taking the job back in June — they gave him a six-year deal worth a total of roughly $6 million, according to league sources, making him the highest paid assistant coach in the NBA.
The Nets' issues stem from general disorganization on the court and a rash of injuries that have taken away their two best players while Kevin Garnett and Paul Pierce have been asked to be players they're physically not capable of being right now. Somehow, that's being pegged on Frank and what he does with the coaching staff. 
If he can get away from the organization with a buyout soon, he can start preparing for how he'll approach his next coaching situation, either as an assistant somewhere or assuming head coaching duties. 
Vince Carter is destined for a Raptors reunion; he doesn't know when it'll happen

Thomas has a target date for his return, and with the Cavaliers scorching, this could be h...

LeBron James once again is using his platform to be socially active
Not many games, but still plenty of action and intrigue Sunday in the Association

Kobe Bryant had a solid piece of advice for back in 2016 when he left OKC for Golden State

An old rivalry is reignited between LeBron James and the Cavaliers and John Wall and the W...