Report: LeBron James done playing for Team USA Basketball
LeBron James is reportedly done playing for Team USA Basketball at the age of 28, after winning two gold medals and one bronze medal.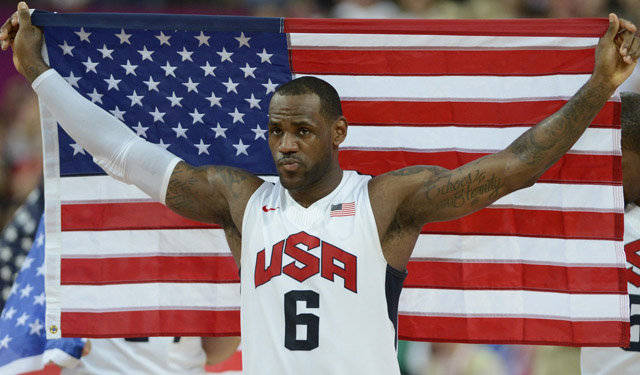 LeBron James hasn't had just an eventful NBA career during his 10-year professional career, but he's also had an eventful international career in basketball. Shortly after joining the NBA straight out of high school in 2003, James was asked to be a part of the Team USA roster that failed miserably in the 2004 Olympic games in Athens, Greece. He was part of a USA team that failed to capture Olympic gold in basketball for the first time since 1988. 
After redeeming himself and his country in both the 2008 Beijing Olympic games and the 2012 London Olympic games with gold medals, it looks like LeBron James' career with Team USA is going to be over at the age of 28 years old, according to Marc J. Spears of Yahoo Sports.
LeBron James' days of playing for Team USA have likely ended.

James, 28, will not play for USA Basketball during the 2013 world championships in Spain and is doubtful to participate in the 2016 Olympics in Brazil, a source close to the Miami Heat forward told Yahoo! Sports on Wednesday. USA Basketball executive director Jerry Colangelo also confirmed to Yahoo! Sports he doesn't expect James to play next summer – and doesn't plan to ask him. 
If James were to play in the 2016 Brazil Olympic games, he'd be 31. After 13 years in the NBA with several of those seasons going deep into the playoffs, it would behoove LeBron to give his body more rest and avoiding international play during the offseason would certainly help him maintain proper shape and energy for the long haul of the following regular season. And considering he's already won two Olympic gold medals, it's probably much easier to walk away now.
Team USA also looks to be in incredible shape in terms of talent pool and system with Kevin Durant looking like the next No. 1 leader for the team and Kyrie Irving, Derrick Rose, Anthony Davis, Blake Griffin, and many more getting more and more involved with the program and looking to gain a more substantial role as their careers progress.
This report comes on the heels of Kevin Love and Kevin Durant both committing to play in the 2014 World Cup in Spain.
In the 2004 Olympics, LeBron James and other young players barely saw the court under coach Larry Brown. He scored just 5.4 points per game in his eight games, which was good for ninth on the team. In the 2008 Olympics, Team USA reestablished their program under the direction of Jerry Colangelo and LeBron James was a big part of that movement. He was second on the team in scoring average (15.5), third on the team in rebounding average (5.3), and second on the team in assists per game (3.8). He also led the team in steals (2.4) and blocked shots (1.0).
In the 2012 Olympics, LeBron played much more of an overall game coming off of his first NBA championship, ranking third on Team USA in scoring (13.3), third in rebounding (5.6), and first in assists (5.6). 
Wade opted in to his $24 million player option earlier this summer

Barkley spoke to the NFL Today crew about the response the president received in his home...

The restricted free agent has a deal in place that will keep him with the Bulls after a st...
James' support continues his trend of social activism on social media

The newly-acquired All-Star thinks the addition of Anthony boosts the Thunder in the NBA's...

The Knicks were asking for the house in discussions for Carmelo Anthony