Report: LeBron James finally meets with David Blatt, David Griffin
The best player in the world reportedly met with his new coach and general manager in Cleveland on Tuesday.
• 1 min read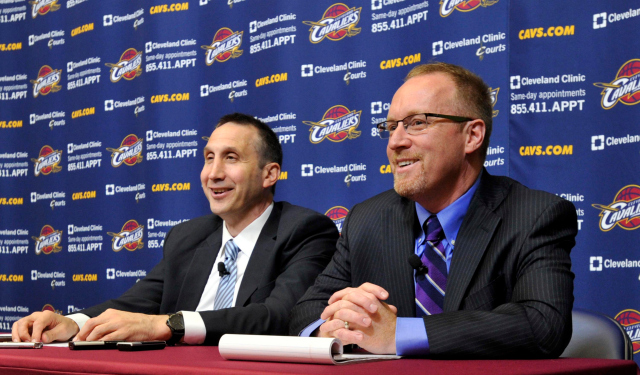 Offseason: Free Agency | Latest from Ken Berger | Rumors
LeBron James finally had his first face-to-face meeting with Cleveland Cavaliers head coach David Blatt and general manager David Griffin at the team's training facility on Tuesday, according to ESPN's Brian Windhorst.
James has been extremely busy since announcing his decision to sign with the Cavs last month, going on promotional trips for Nike to Brazil and China while also shooting a movie in New York. James met face-to-face with team owner Dan Gilbert before announcing his free agent choice but had communicated with Griffin and Blatt by telephone and text.

The Cavs management saw a thinner James when they hosted him at their training facility. He has been focused on cutting his weight since the end of the Finals by reducing carbs and has lost more than 10 pounds.

…

James may not have been in the same room as his front office this summer but he's been working alongside them. He successfully recruited [Mike] Miller and free agent James Jones. James has also been in contact with [Kevin] Love, [Shawn] Marion and free agent Ray Allen as he decides whether he wants to continue his career.
It's kind of funny how differently things work when you're the best player in the world. James met with Cavs owner Dan Gilbert before deciding to return to Cleveland, but he didn't feel the need to sit down with Blatt or Griffin. It's not a bad thing at all that all his communication with them was via phone and text, but it's amusing that he has spent more in-person time this summer with Bill Hader than the people who run his team.  
Also, the "more than 10 pounds" thing doesn't look like an exaggeration:
Tensions between refs and players have been high this season, so it was time for a sit-dow...

Irving is known for his controversial flat-Earth comments

George will be an unrestricted free agent in the summer
Durant said playing good basketball is more important than ending up with the best record

Follow along with all the news, notes and highlights from All-Star Saturday night

The 13 finalists will find out if they have been selected on March 31