Report: LeBron James' future won't be affected by Finals outcome
LeBron James reportedly won't decide what to do this offseason based on how his season ends.
• 1 min read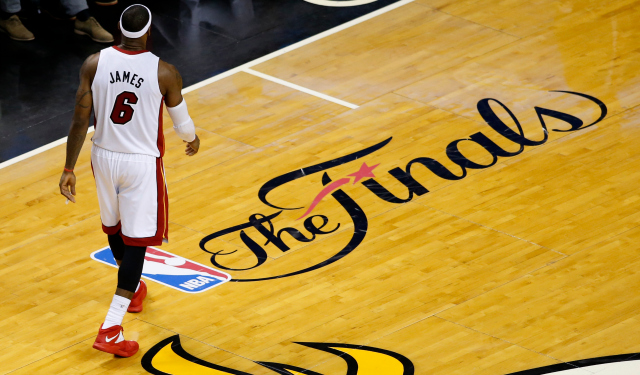 More postseason coverage: Playoff schedule, results | Latest news, notes
Miami Heat superstar LeBron James can opt out of his contract and become a free agent in July, and with his team trailing 3-1 in the NBA Finals, there is naturally speculation that another loss wouldn't bode well for his future in Miami. James, though, will not be affected by what happens against the San Antonio Spurs, according to ESPN's Ramona Shelburne.
Source says, "There's only one person who knows what LeBron is going to do (this July) & it's his agent, Rich Paul" http://t.co/VQBcOwzJ47

— Ramona Shelburne (@ramonashelburne) June 13, 2014
All season long, James has declined to talk about what will happen this summer. This is in contrast to the Heat's Chris Bosh, who has said that he intends to come back.
Miami is on the brink of elimination, even with James playing phenomenally. It's fair to say that it looks like the Heat need to bring in some more help for him, but it's premature to assume the trio of James, Bosh and Dwyane Wade is about to be broken up.
The Warriors rookie threw down an off-the-backboard dunk while up 25 late in the fourth qu...

The third member of the club might come as a surprise

LaVar said Lonzo won't lose again this week, and Marcin Gortat found that pretty funny
Eric Bledsoe is going to be traded at some point and these tweets will explain how it got...

Curry's outburst will cost him some money, but he won't miss any games

A look at the ups and downs for various suitors as Bledsoe has left the team.