Report: LeBron James seeking max deal from Miami, plus roster upgrades
Heat star reportedly seeking max contract from Miami to re-sign on top of roster upgrades. How does that work?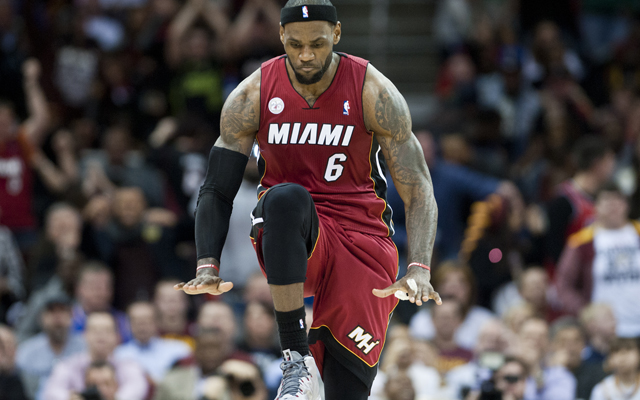 More Offseason Analysis: Coaching changes, news | Free Agency | Draft | Rumors
The King wants his cake and to eat it, too. Yahoo Sports reports that LeBron James intends to seek a new deal at the league maximum to stay with the Miami Heat... and wants assurances of roster upgrades along with re-signing Chris Bosh (who has yet to decide whether to opt out) and Dwyane Wade who opted out Saturday. 
While Bosh, Wade and Haslem could ultimately take less money with the early termination outs in their deals, James, the NBA's four-time MVP, is seeking a full maximum contract extension -- or something close to it -- to stay with Miami, sources told Yahoo Sports.

James is eligible to sign a five-year, $130 million extension with the Heat.

James' priority remains to find a way to make a future work with Miami, but a failure by the organization toward improving the Heat's roster to his satisfaction could send him aggressively into free agency, sources said.
via Dwyane Wade, Chris Bosh, Udonis Haslem entering free agency in hope of keeping LeBron James in Miami - Yahoo Sports.
So ... this complicates matters. The speculative idea after Dwyane Wade opted out Saturday was that he did so with assurances that James would return. With Bosh still undecided on whether to leave behind $20.5 million next season and over $42 million overall and reportedly asking for over $15 million per year, and if James were to indeed ask for the max at $26 million per season ... that gets awfully complicated in trying to build a superteam.
That's $41 million between those two players, with a projected salary cap at $62 million. Miami can of course go over the cap to re-sign the Big 3, but the timing of how they execute deals to construct  an upgraded roster has to be perfect.  Otherwise, it could significantly hamper their ability to re-tool the roster with players like Kyle Lowry or quality veterans, much less another star like Carmelo Anthony. James' demands here seem a little bit paradoxical. "I want to take up $26 million in cap space and I want you to build a deep, talented team that can win a title."
Um, yeah, about that. 
We'll see what happens. As it stands, a lot remains in flux. Whether Bosh opts out, whether James does in fact demand the max (which he's more than entitled to), what Dwyane Wade is willing to take, how the Heat plan to fill the team around the Big 3, and whether in fact the superteam remains. But it is notable that James plans on asking for the most he can. 
Thomas took to Twitter to let the Celtics know he doesn't want to ruin Pierce's night

The Hall of Famer was a seven-time All-Star with the Celtics, and was MVP of the 1976 NBA...

It's rare to see a legit punch in an NBA fight, but this was definitely one of them
We've got all the scores, highlights and news from an NBA Tuesday

The former Slam Dunk Contest champion will take his talents to Tri-State

Do NBA players have look-a-likes from famous paintings? We found out on the new Arts & Culture...