Report: LeBron James wants the max, not scheduling meetings
Free-agent-to-be LeBron James is reportedly not willing to take a pay cut this time, and his agent will handle the start of free agency.
• 1 min read
More Offseason Analysis: Coaching changes, news | Free Agency | Draft
LeBron James will let his agent, Rich Paul, handle negotiations at the start of free agency, and he will not accept anything less than a maximum contract, according to Brian Windhorst of ESPN:
Teams who contact James will be informed that he wants no less than the maximum salary number for next season, sources said. The max number is projected to be $22.2 million. In 2010, James accepted a pay cut when he signed with the Miami Heat, taking less than the maximum salary to help make space for other free agents.

Also, as of now, James is not scheduling any pitch meetings with teams -- he will let agent Rich Paul handle the opening stages of talks. In 2010, he scheduled six meetings with teams at his offices in Cleveland over the first three days of July.

James' demands for the length of his next deal is in flux. After the Finals, James said flexibility was important to him, hinting that he may not be looking for a full four or five-year contract.
This has led to "a growing pessimism among teams" that the superstar would consider leaving the Miami Heat. The maximum-contract demand does hamstring Miami a bit, though, in terms of how the team can strengthen its supporting cast. The burden of financial sacrifice would then be placed on Chris Bosh, Dwyane Wade and prospective additions to the Heat.
The Chicago Bulls and Houston Rockets do not have the requisite cap room to offer James a maximum salary, but it seems likely they'll line up deals in order to clear space in the event that James or Carmelo Anthony are interested in jumping ship. 
The Decision 2.0 is already quite different than the first one, and it's looking less and less like James will switch teams again.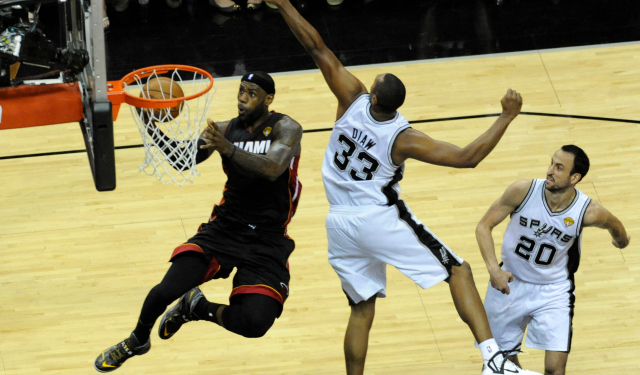 Irving has requested a trade away from the Cavaliers

The Lakers made a strong push for Rose, but he would have been a backup in Los Angeles

The small forward spent last season with the Sacramento Kings
Knight still has three years left on his five-year, $70 million contract

The Golden State forward is accused of assault, battery and making misleading statements

The Nets get their shooter a year later, and the Blazers reportedly will waive Nicholson