Report: LeBron James won't take paycut without roster upgrades
Miami's Big 3 reportedly won't take less money unless they like the plan to compete.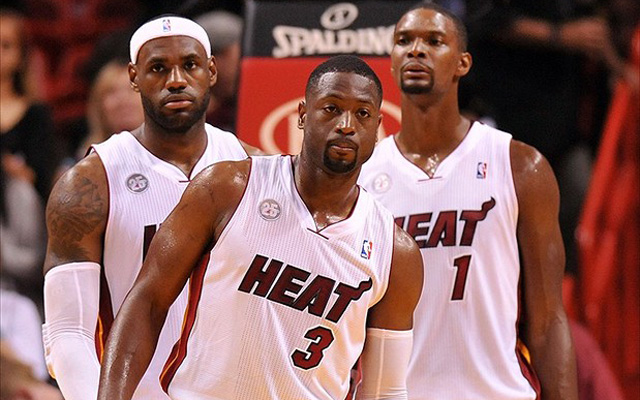 More Offseason Analysis: Coaching changes, news | Free Agency | Draft
So the big question in Miami is whether the Triad of LeBron James, Chris Bosh, and Dwyane Wade will take paycuts in order to stay with the Heat and improve the roster. There's also the little matter of Micky Arison facing steep luxury tax penalties under the new CBA with the Big 3 around.
But the New York Daily News reports that James and Co. are not going to take a discount unless it makes the team better, Arison bottom line be damned. 
As team insiders have maintained for months, James isn't interested in reducing his salary from $20.6 next season and $22.1 million in 2015-16 just so that team owner Micky Arison can avoid paying luxury taxes. As they say, been there, done that and all it got James was second place.

Bosh, who makes identical money to James, and Wade, who makes slightly less, at around $41.5 million for the next two seasons, also don't want to rework their deals solely to give Arison another tax break. They want the money put to good use, meaning adding talent so that Miami can return to the Finals for a fifth straight season. No team has done that since the Red Auerbach-led Celtics of the 1960s.

The Big Three would possibly do what Duncan has done for years so that Pat Riley has the means to bring in a young, athletic wing, along with other new parts. There will be talk about taking pay cuts to fit Carmelo Anthony in, but that is seen as far-fetched.
via It comes down to what dollars make sense for LeBron James and Heat after NBA finals loss - NY Daily News.
This all makes sense, right? The players will take less if they can improve the team, but not just to help out the owner who both has and makes more money than them, in part due to their contributions. 
What's a little interesting about this is that it shows the continued tension between players and owners. Few people in the world are willing to take paycuts to help their employer out unless it improves their job security. But the Heat are specifically lead by three outspoken leaders of the players' association. And in part, the new rules are the results of the owners' efforts in the lockout to curb player salaries. So the players aren't going to sacrifice to help their owner, even if he didn't support such draconian measures and has been a freind to them, avoid the penalties his side pushed for. 
Meanwhile, the Dwyane Wade decision still lingers largest. Wade is owed $40 million over the next two seasons. If he keeps that money, then goes for a two-year deal around $14 million to finish his career, that would put him at $54 million in total earnings from here on out from NBA salary. If he opts out, and takes a drop to $14 million for five years, that puts him at $70 million. It all depends on what kind of deal he thinks he can get on his next deal, or if he thinks he'll retire. Wade looked like a shell in the Finals. 
For James, it comes down to whether the Heat have a plan that can convince him the team can improve. They didn't just lose to the Spurs, they were demolished. All of this factors into his decision. They have to convince him not only to stay, but to stay and take less money because the personnel they plan on acquiring will be worth it... then they have to go out and get those guys. 
Did I mention this season is kind of a big deal for them? 
Fergie: 'I'm a risk taker artistically, but clearly this rendition didn't strike the intended...

Victor Oladipo had a successful R&B album over the offseason and Jamie Foxx is a fan

Klay Thompson makes sure he stands out during All-Star Weekend
There's no shortage of moments to choose from

The Trail Blazers almost traded for Charles Barkley, but when they didn't, it put them in debt...

The self-proclaimed ASG snub Williams may be bitter about Butler requesting to sit out Sun...